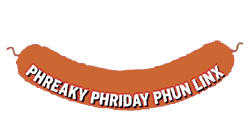 July 14, 2000
Loose Moose
The folks at Loose Moose who brought you those ultra-cool claymation Brisk commercials sure are busy. Check out their other ads you might have missed. One of the funnier pieces is from the Peperami campaign, where a pepperoni stick has a nightmare of becoming a cuddly toy.
Dr. Webster's Guide to the MacQuarium
Do you have an old Macintosh computer lying around collecting dust? Why not transform the monitor into a happy home for your goldfish? With step-by-step instructions and photos from Dr. Webster's Guide to the MacQuarium, you can make just about any old Mac into an aquarium. Think of it as the ultimate screensaver.
Happy Cow's Global Guide to Vegetarian Restaurants
Hungry for something healthy? Happy Cow's Global Guide to Vegetarian Restaurants not only lists restaurants in the United States and Canada, but also in faraway places like Chatworth, South Africa, and Hat Yai, Thailand. You might be surprised at the number of vegan restaurants in New Zealand.
Save Family Guy
As one of the most controversial, and yet hilarious, animated shows on the Fox Network today, Family Guy is in serious trouble. The network execs are thinking of taking the show off the air permanently, so now's the time to act. Save Family Guy has email petitions and cards you can sign, as well as information on its diapers campaign!
Optigan
Unless you had a vast home organ collection in the '70s, you probably don't remember optigans. Mattel created optigans to play back the sounds of real instruments which were encoded on celluloid discs. So instead of reproducing sounds using electronic simulations, you could hear the real thing. This site has a FAQ, history and a virtual optigan for you to download.
The Late-Night Cable-Movie Plot Generator
When you stay up late watching cable TV, you might notice that the plots tend to all look the same in those horrible made-for-TV-movies. On the Late-Night Cable-Movie Plot Generator, you can decide what the plot will be just from mixing and matching the title of the show. Find out the plots of fictional shows such as "Sins and Merit Badges" and "Dark Justice."