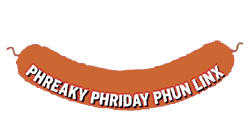 Sept. 8, 2000
Whole Pop Magazine: Lunch boxes
Go back to a time when your lunch box defined your elementary school identity. Read lunch pail tales where twenty writers share their lunch box memories, or brush up on the history of these amusing food carriers. Get tips on how to collect them and learn how lunch boxes have made their way into music videos and films.
ChrisAndLuke.com
Chris and Luke are two high school seniors who really want to go to the colleges of their choice, but don't want to pay the high tuitions. Instead of applying for school loans that will haunt them until they're almost ready to collect Social Security, they've decided to ask for corporate sponsorship. In return, the fellas promise to relentlessly market your product, wear clothes displaying your company logo and give you as much publicity as you can handle. After all, Chris and Luke will be the first corporate-sponsored college students. Just think of the good PR!
Cybercinema
Why should humans get all the fandom? Don't computers that have prominent roles in movies have a right to be honored? Cybercinema pays homage to computers that have become celebrities in their own right. Broken down into catagories such as domestic invasions, Cold War paranoia, love, family relations and God, the site explains how computer characters affected the movie plots. Hal would definitely approve.
European Comics on the Web
Skip Batman for once and delve into the world of European comics. This directory has links to international comic titles like Cat Claw (a Yugoslavian superhero comic) and Tex Willer (an Italian comic about the Wild West.)
Final Meals
When you think of the people on death row, it's hard to imagine them having any kind of appetite. On the Final Meals site, sponsored by the Texas Department of Criminal Justice, you can see firsthand what prisoners request for their last meals. Each meal description comes with links to the offenders with their photos. Mexican food, steaks, burgers and breakfast foods are the most popular. It's interesting to see who makes a simple food request like an apple, or two boxes of Frosted Flakes. Some prisoners decline their last meals althogether, while one person requested his last meal be donated to a homeless person. It makes you wonder if the FBI has ever tried to profile criminals by their food cravings.