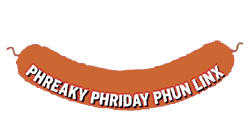 Nov. 10, 2000
Sewers of the World
Everyone's so busy looking up at the pretty sky that sometimes they forget to appreciate the beauty right below their feet. Thanks to Sewers of the World you can now see manholes in an entirely different light. Look at images of sewer covers and grates from places like Germany, China, Albania, Costa Rica, France, Nepal and more. Or see the mail art entries that take some creative liberties with your run-of-the-mill sewer covers.
Presidential Haiku
In light of various current events regarding botched elections, dirty campaign tactics and random embarassing acts of politics, perhaps you need to express yourself in a presidential haiku? Complain about politicans in a poetic fashion. Or pay homage to your favorite U.S. president.
Little Lit
Fairy tales can be extra special when told by some of the most avant garde comic book artists and illustrators around. Read interactive fairy tales from Charles Burns, Chris Ware, Dan Clowes, Kaz, J Otto Seibold, Art Spiegelman and others. The site also has fun games to play and ordering information for this unusual fairy tale collection.
Vanishing Tattoo
Tattoos aren't just for bikers and rebellious college kids. On Vanishing Tattoo, you can visit the places where tribal tattooing originated. Read about tribal tattooing in such places as San Francisco, Hawaii, Yokohama, Polynesia, China-Russia, the Bering Sea, the Philippines, Borneo and Scotland. The site focuses on the history of tribal tattoos from each region, and includes photo galleries of designs from the past to the present, complete with a photo gallery of celebrity tattoos.
Distort the Future President
Sick of hearing about the flubbed up election results for the president of the United States? Why not waste some valuable time distorting the faces of Al Gore and George W. Bush? It's fun to stretch their faces into devilish grins and goofy expressions.
1966
Be a hepcat and learn a thing or two about the fab fashions from the swingin' sixties! Get the lowdown on how to dress like a Mod and wear your hair like Twiggy. The navigation is a little different than most sites, so if you feel like you've reached a dead end, try clicking on the photos and see what happens.