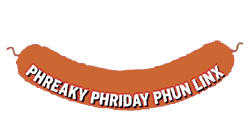 Dec. 22, 2000
Cheezy Guy
Ever notice that guy at parties who's dressed like a Bee Gees fanatic and often refers to himself in the third person? Or maybe you have a friend who thinks big hair and bad pick-up lines are a must? Then you'll appreciate Cheezy Guy. He's the new cyber mascot for Cheez Whiz. This site lets you wander around his happenin' bachelor pad. Get recipes for classy dishes like "Blechin' Cheezy Beer Dip" and "Shake (Your Bootie) and Bake Chicken Nacho Nuggets." Also be sure to visit his bedroom closet so you can dress him up like a real ladies man.
You Can Make an Art Car
Want to drive down Main Street in a hip car decorated with Barbie doll parts? All you need is your boring old car, plenty of trinkets, Super Glue and a vivid imagination. Take a gander at some inspirational examples like a 1976 Cadillac decorated with 5,000 pieces of bent spoons and a 1963 Corvair bejeweled with 160,000 gemstones and beads. Read the handy tips on building an eye-popping art car and watch the pedestrians drool over your mystery machine.
William Shatner
Whether he's singing on Priceline commercials or making appearances on TV shows like "Third Rock From the Sun," William Shatner is pop culture icon who seems to stay hip no matter what decade it is. Read about all the sci-fi books he's authored, or browse through all his photos as Captain Kirk, TJ Hooker and more.
Heifer Project
Giving sure feels good. But sometimes you need to do more than drop a couple of coins in a collection jar during the holidays. Why not help the needy by sending them a cow or a chicken? The Heifer Project lets you do just that. You can buy a struggling family in a Third World country sheep, chickens, cows, goats, ducks, llamas and even bees! These meaningful gifts help families become self-reliant and happen to be tax-deductible. Just don't try to gift wrap the bees yourself.
Spammimic
Forget those complicated encryption programs. Why not hide your secret message inside spam? Not potted meat. We're taking spam junk mail here. All you have to do is type in your message and let the Spammimic surround it in annoying junk email text. You'll barely be able to see your message at all, but when your friends want to, they can read it again using the Spammimic decoder.