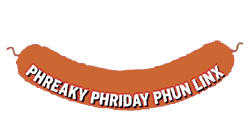 January 17, 1997
React
If you would like to read a teen zine other than Sassy or Seventeen, try React. This magazine - written for teens, by teens - has entertaining articles on parents, school, friends, dating and other crucial issues important in a happy high school existence. Find out why adults always want to think you're going through a phase and how jokes may improve your future. Discover how easy is it to try and convice your folks that iguanas make cool pets, or post your own 2 cents about different discussion topics.
The Dog Diaper home page
Sick of following your dog around on walks, picking up his droppings? Perhaps a diaper is the answer. Go to this site for details on how you can purchase a diaper for your pooch, or learn interesting facts about waste in Paris and other urban areas. The color illustrations of all the different diaper models are worth the visit.
Ronnie Cramer's Cult Film Page
When was the last time you saw a movie where killer clowns from outer space terrorize a midwestern town or a film about a female biker gang that beats up men? Chances are, if you only go to major motion pictures, you're missing out on a wealth of independent films and cult classics such as She Devils on Wheels, Attack of the Giant Leeches, Shriek of the Mutilated, and Wasted Lives. Read summaries of these underground movies and look at some very amusing video clips of the movies' trailers.
The International Museum of Surgical Science
Located in Chicago, this museum has a fascinating collection of over 7,000 surgery-related objects and works of art. Access a short list of books on surgical history or experience the Interactive Antique Illness section, where you will end up as either one of the few survivors or one of the many dead.
The Robot Factory
Imagine you could buy a robot to entertain your friends at a party or promote your product by talking to customers as they browsed. The robots are ready to serve your needs. Most of the robots from this site look like scary lifesize puppets that chatter, play music and ride tricycles. Read why this company is willing to make customized robots that resemble huge milk cartons, roller skates and various furry animals.
The Boiler Room
What does it take to be a Mod? Brush up on your Mod culture with essays on the music, art, fashion, movies and attitude. The site has plenty of videos from movies such as The Knack and Blowup as well as audio files from the Untouchables, the Lambrettas, Dexy's Midnight Runners, the Jam, Blur, and more. Try to mimic the fashion styles or learn the proper definitions of the Mod scene.
Journey Fans Network
Some bands simply refuse to die. Go on a journey with fans of this popular band from the 1980s. You can find fans living near you by clicking on a United States map or track fans' birthdays. Read Journey interviews, lyrics and message boards. Don't miss the concert reviews from the band's reunion tour.
Back to Phun Linx