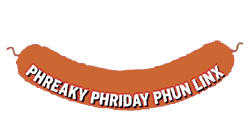 Feb. 23, 2001
Peter Pan's Home Page
Some sites simply cannot be described in enough words. This is one of those. Here's a fella who's a true fan of Peter Pan. So much so that he designs and wears costumes only a fairy tale character could appreciate. Click the other fashion pages to see photos of him dressed as "Little Lord Fauntlerouy" and "Blue Boy" too. You have to see it to believe it.
The Klingon Language Institute
French is for sissies. Here at the Klingon Language Institute you can learn the powerful language of Klingon. Imagine taking control of your next meeting by saying, "Hab SoSlI' Quch!" (Your mother has a smooth forehead!). Or even better, instead of "Wassup" yell "qaStaH nuq?" Learn about writing in Klingon too!
Ninja Burger
Nothin' goes better together than ninjas and burgers. Case in point, Ninja Burger. Check out such time-wasting features as Ninja Tic Tac Toe and the Ninja Name Generator. Heck, there's even a Ninja Haiku section. Who could ask for more?
ACME Heart Maker
You don't need to wait for Valentine's Day again to get a nice candy heart. Personalize your own candy heart to say anything you want on the ACME Heart Maker. See what other people have written too!
Apartment 201
Come and knock on their door. They've been waiting for you. Check out this extensive fan site dedicated to Jack, Chrissy, Janet, Larry, Mr. Roper and the rest of the zany characters in sitcom "Three's Company." Vote in polls, gaze at photos of Chrissy in bathing suits and test your Tripper knowledge in the trivia section.
Betty Bowers
Betty Bowers is a much better Christian than you. And she says just that on her Web site. Okay, so it's not a serious site exactly, but hey - it's a funny site to read all day on Sunday.
Darva's House
Wow. Sometimes that fifteen minutes of fame just drags on and on and on. Ugh. You remember Darva right? She's the one who won on "How to Marry a Millionaire" and then back out because they guy was sorta too freaky for her. Well, on Darva's official site you'll find how to make lemonade out of lemons. (I wonder what you can make out of a wacky millionaire?) And she gives advice on how to deal with stress. Darva also gives tips on fashion, health and beauty. She even reviews books and movies on her site. Er, it's like she's her own Web portal. The only thing missing is a Darva stock ticker!