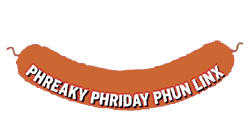 March 9, 2001
Jeffrey Wernick
Think you're the biggest "Sopranos" fan around? Think again. Okay, so Jeffrey Wernick isn't exactly a real fan, or even a real person. But as far as "Sopranos" sites go, this one is the best. Read about the characters of the hit HBO mafia family drama as though the existed in real life. Browse the Sightings section to spy on the family and watch various video clips from the show. Bahda bing!
The Joe Bob Report
When all those Oscar-bound mainstream movies are boring you to death, take a well-deserved break and watch a B-grade movie. Read reviews of movies like "Blondes Have More Guns" and "The Ghost In The Invisible Bikini." The best part of these reviews is that Joe tells you about all the parts in the movies that matter like the kung fu action and exploding actors.
Teleport City
Here's a Web zine worth wasting some time on. Keith Allison add Scott Adams take their time to bring visitors to the site, a whole new perspective on movies, books, zines, comic, travel and of course music. Read essays about his recent vacation to the Mystery Spot, or learn a thing or two about South Korean action cinema. Get the lowdown on movies featuring martial arts, gore, swords, Euro cowboys and documentary filmmakers. Or go to the music section and brush up on your knowledge of punk, surf, exotica, d-rock and experimental bands. There's plenty to see and do on Teleport City, and heck, these fellas plan on reviewing snacks too. So you know that's gonna be good!
Earthquake Strikes Seattle
Just because you don't live in Seattle doesn't mean you can't experience the earthquake virtually. Just push the button and hold on to your latte.
Origins of Band Names
Did you know that the band Foo Fighters got its band name from the slang term for WWII pilots who apparently shot down UFOs? Or that Husker Du is Norwegian for "Do you Remember?" Discover the name origins of your favorite bands here.
Random Smiths Lyrics Generator
Feeling depressed? Well, if misery loves company, then you'll be delighted with the Random Smiths Lyrics Generator. The Smiths were one of those bands who could sing about bad relationships in a way that made you wanna dance. Or at least, I like to think so. Read some lyrics and wallow in self-pity with style.
The A-Team Resource Page
Do you miss Mr. T and the gang from the hit TV show "The A-Team?" Thanks to The A-Team Resource Page you can find everything you ever wanted to know about the show, the characters and actors, the new movie and more. Read some fan fiction, download screensavers and get Winamp skins! There's so much here that it may take a few days to get through, but Mr. T sure would be proud if you tried.