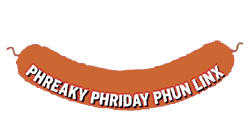 Oct. 5, 2001
New Scientist: The Last Word
Why do chased sheep run in straight lines? How can ants survive being in a microwave oven? Is it necessary to wear a bra in space? Get answers to these thought-provoking questions and others on New Scientist magazine's The Last Word. This site has answers to just about every question that makes us scratch our noggins in bafflement. What is the origin of steel wool? What's the quickest way to find lost shoppers? Why does rotten wood sometimes glow? I could ask questions like these all day. Good thing someone has the answers.
Donuty
Who doesn't like those round, wheel-like pastries? Whether you're a fan of jelly-filled, cake or simple glazed, you'll love Donuty. Read stories that take place in donut shops or print out some yummy donut recipes. Be sure to check out some crazy objets d' art using donuts as the muse. Click on the donut icons to read about the history of donuts, donut of the month and a donut journal.
You Grow Girl
Does your green thumb have a band-aid on it? Do you get the feeling your houseplants are afraid of you? Perhaps reading tips and articles on You Grow Girl will help. Not only is the site jam-packed full of helpful pointers, but you can also read plant journals written by advanced and beginner gardeners. (Gayla's plant journal is a great read because you feel like you're reading a novel more than a listing of plants she tills.) Learn which plants to well in dorms, and how to successfully grow plants from seed packets. There's even a review section covering books, zines, software and music regarding plants and gardens. The funniest part of the site is the article called "Can 'Cool It Now' Save This Plant?" Who knew songs by New Edition had such an effect on plants?!
1,000 Journals
Take a candid peek into people's lives without spying on them through your telescope. How? Send around 1,000 blank journals to 1,000 random people. Tell them to fill out a few pages and then pass it on to someone else. Eventually you'll be sent back your journals filled with art, doodlings, poems, stories, photos, essays, rants and more. That's exactly what this site did. You can see various entries that participants scanned for the site, or track the journals as they bounce back and forth all over the globe.
Did You Bring the Bottles?
The next time you rush in to a Safeway grocery store to pick up your weekly veggies, pork rinds and cola, look around. No really. Think of it as going to an architectural museum. On the Did You Bring the Bottles site you can learn supermarket history from the 1920s to the1970s. Look at old photographs of Safeways through the ages, or check out photos and histories from chain stores such as Piggy Wiggly, Lucky, Kroger and A&P.
The Date-My-Sister Project
Trying to find the right guy to date is hard enough, but imagine if your brother decided to follow you on your dates (without you knowing of course), take photos, tap your phone, hide mini-cameras in your apartment and write comments about your dates. If that's not embarrassing enough, it all ends up online. That's what happened to Melissa. And thanks to her brother, you can watch as she goes out with her brother's pals. Poor girl. Don't miss the exciting finale.
Matoox
Does your carpool buddy drive like a madman? Do you have friends that are always fighting? Does your boss have really bad breath? Chances are you want to say something, but you can't or else you come off sounding like a jerk. So how do you drop a hint without being the annoying messenger? Have Matoox do the talking for you. They'll send a postcard or an email asking the person to knock it off, shut up or pop a breath mint.
NooFlat
Waste endless amounts of time clicking and altering all that you see on NooFlat. The site seems to gather similar inspiration as Superbad.com and SodaConstructor. You won't be disappointed. Just keep clicking and see what develops.