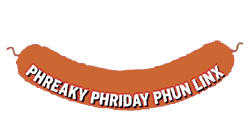 Oct. 12, 2001
Poke the Bunny
Sometimes it's the little things that get me giggling for hours. Poke the Bunny is one of those sites where you spending clicking, snickering, clicking and then snickering some more. You can't spend your days annoying real animals, but you can sit there and bug a virtual bunny to your heart's content. Go ahead, poke the bunny.
Toilet Seat Art Museum
Whomever said art is crap, may be on to something. In this case, art is built from parts of a crapper. Imagine walking into someone's bathroom and seeing a work of art on the toilet seat. On this online museum you can take a gander at artist Barney Smith's endless collection of toilet seats. He has been creating these works of art for 30 years, which add up to over 600 differently decorated toilet seats. The owl species illustration seat and the sights of France seatn are probably my favorites. Tres chic!
Dome-O-Rama
When you go on vacation are you often drawn toward tacky gift shops? Do you enjoy the mesmerizing fall of snowflakes, but hate the freezing temperatures of winter? Then you'll probably enjoy a site dedicated to snowglobes, or snowdomes as they are often called. Dome-O-Rama has the low-down on good and bad snowdomes, as well as giving you the chance to feast your eyes on tons of dome images. For those of you seriously obsessed with domes, the site also has downloadable icons and wallpaper featuring festive domes. Let it snow!
EGG The Arts Show
Everyone can use a little more art appreciation in his or her life, though half of us hate the idea of wandering around a stuffy museum all day. But how would you like to learn about alternative artistic icons like Ed "Big Daddy" Roth or Benny Motta "the Michelangelo of Hair?" Perhaps you'd like to learn how to make a suit out of grass or cans? EGG The Arts Show on PBS showcases some pretty unusual outsider art profiles as well as features on wacky performance art, bizarre recordings, and all that other stuff too weird for most galleries. The site even has info on how to yodel, and a hula index! Plus you can locate art happenings in your area from the See and Do USA section.
Indie Bride
Not all us ladies feel like we should look like that plastic bride on top of the wedding cake. In fact, there are plenty of brides-to-be that want an unusual wedding with non-traditional trimmings. Indie Bride pokes fun at the $70 billion dollar wedding industry and gives us a REAL perspective on planning weddings. The site is for "would-be brides who have more on their minds than planning a reception, women who never for a second believed in Prince Charming and who have not, despite all of the cultural cues, been breathlessly awaiting their wedding day for their whole life." Heck, they even have a chat room for wedding horror stories and on how to deal with wedding planning anxiety attacks.
Digital Angel
Has your pet puppy Spot run away from home? Did you lose Grandpa in the mall again? Has your mother-in-law driven off in a car with low air pressure in the tires, and you're not sure if she's okay? Don't fret. With the Digital Angel service you can be a total control freak and keep tabs on everyone you love - for their own good of course. The Digital Angel technology "surpasses ordinary location-enabled devices by making it fast and easy for you to pinpoint where your loved ones are as well as HOW they are when they wander or are away from home." Imagine how many paranoid parents are going to buy these wrist-watch looking devices to keep track of their juvenile delinquent children who sneak out of the house? And don't even get me started on poor grandmas who won't be able to go to the racehorse track without their families knowing. Geesh, how sad.
The Tattoo Baby Doll Project
Tattoos and embroidery art aren't too terribly different from one another. At least that's what artist Sherri Wood wants us to ponder as we look at the Tattoo Baby Doll Project. Inspired by the creative tattoos she saw on women living in San Francisco, Sherri decided to send out used and discarded dolls to various female tattoo artists who then drew their own designs on the dolls. When they sent the dolls back to Sherri, she then embroidered the tattoo designs on the dolls. Each dolls entry comes with comments from the tattoo artist. Check out the various styles of tattoos on the dolls and why they address feminist and cultural issues.
The Carthedral
I've heard of car shrines, but what about a car that is a shrine? Apparently this bizarre vehicle is a Frankenstein monster of sorts, built from parts of many different cars. The site reveals that the "Carthedral is a 1971 Cadillac hearse modified with 1959 Cadillac tailfins. Welded on top is a VW beetle and metal armatures with fiberglass. Carthedral is a rolling Gothic Cathedral complete with flying buttresses, stained glass pointed windows, and gargoyles." I wonder if the confessional is in the trunk.