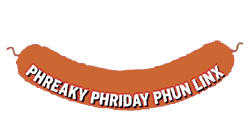 Oct. 19, 2001
Hats of Meat
If meat is murder, then these hats are homicide. Sure you might attract every dog in the neighborhood, and hippies everywhere will glare in your direction, but then again you might end up a fashion legend. Check out these hats made from steaks, bacon, sausage and other fleshy foods. Be a meathead, just remember to shampoo often.
Stuck at Prom
Can't afford a fancy dress for prom? Too low on cash to rent a tuxedo? Don't worry, you can always make a fashion statement at the big dance by wearing duct tape. Check out all the prom photos of brave teens who dressed up in original duct tape outfits - 30 pages of party pics!
Revenge Lady
We all know revenge is never the answer, however Revenge Lady is here to help you with any questions you have regarding getting back at the ones who've done you wrong. Even though the site is mainly being used to plug the book "A Woman's Guide to Revenge," it still has a handy Q&A section and some useful advice. Just make sure you have a good lawyer first.
The First Twins
Chelsea Clinton sure seems dull compared to the First Daughters, Jenna and Barbara Bush. The twins love to party, laugh and have a rip-roarin' good time. Sure they got caught for underage drinking - but they were sorry and promised not to do it again. Honest. Check out this hilarious fan site that follows the teen twins in the news, complete with funny commentary and photos.
I'm Right, You're Wrong
Feel like judging someone today? Want a stranger to tell your boss that you are right in asking for a private jet? Want someone to finally tell your mom that she's wrong to force you to dogsit her bladder-challenged poodle? Finally, you can with I'm Right, You're Wrong. On this site you sign up to state your grievance and then let a jury of your "peers" decide who is right and who is a moron. Or if you'd rather, feel free to join a jury and vote on cases in lovers court, family court, roommate court, ex's court and friends court.
Human Clock
No one likes to sit and stare at the clock. But what if with each minute you are greeted by people who show you the correct time with a sign? That's what Human Clock does. It gives you the correct time using photo portraits of people. One minute it's a couple on the way to a school dance, the next minute it's a guy walking his dog by a river. You never know who you'll see minute by minute.
Iron Chef Compendium
If you watch the Food Network at all, you've probably noticed a zany Japanese show that mixes cooking and extreme sports called Iron Chef. Every episode a star ingredient is revealed and the contestants (consisting of an Iron Chef and a challenger chef) race to make as many dishes using that ingredient. Past ingredients have included carp, stingray, blowfish, garlic and seaweed. On this site, you can learn more about the Iron Chefs, its cheesy host (the guy who bites the yellow pepper in the intro), its commentators and celebrity judges.
Losers.org
You're not so bad. Just look at all the freaks and geeks on Losers.org. The site is broken down into such categories as dorks, groupies, goths, couples, players, trekkies, rednecks, punks, greenies and more. It might be a tad mean-spirited to gawk at weirdos found online, but at least it's not you.