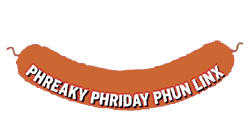 Nov. 2, 2001
Dance Fundamentals
If you want to learn new dance moves, or just make fun of a German guy named Rene as he does some hip-hop head bops, then this is your site. I don't know about you, but watching Rene pop some funky moves while dressed up in his nicest church clothes is extremely giggle-provoking. Play the "Dub" example for serious snickering.
Panty Cat
Sick of playing video games of mass destruction? Want to play a game where nobody dies and everyone is happy? According to this site, "Panty Cat, a character from MaciGame - a Japanese game for Macintosh computers, is a cat that likes to wear panties on his head." Hahahaha. Really. You get points for putting all the panties and bras on this curious kitty's head. Now THAT'S a game!
Pork 4 Kids
Nothing's more fun than playing with a pig before you eat it. At least that's the impression I get from Pork 4 Kids. In the Fun Food Zone section (in the Kids Clubhouse), you can make a chef's hat to wear while cooking bacon, make a cyber ham sandwich and learn where pigs fit into the food pyramid. The best part of the site, in that Simpsons-character-Troy-McClure kind of way, is the cartoon "Are You in My Food Group?" starring Peggy the Pork Chop. Will she ever find her "food family?" There's nothing more entertaining than a lost pork chop.
I Do Shoes
There is no steadfast rule saying that brides HAVE to wear white pumps down the aisle. In fact, you can even wear white tennis shoes if they are spiffy enough. At I Do Shoes, you can have custom-made bridal tennis shoes decorated with pearls, lace, sequins and beads. You can also buy custom-decorated white ballet shoes. Sure they might be on the ugly side, but at least your bridesmaids won't have anything more to complain about once they see your feet.
The Index Phobia List
Are you afraid of the office copier machine? Does a roast beef sandwich give you the shivers? Does the neighbor's compost heap keep you up at night? Perhaps you can find all the phobias that pertain to you on the Index Phobia List. There are phobia names for folks petrified of clowns, swallowing air, bicycles, books, young girls, the color yellow and more!
The Journey is the Destination
A young photojournalist (23 years old to be exact) named Dan Eldon died in 1993 while covering the conflict in Mogadishu, Somalia. He left behind a wealth of collage art and photos in his personal journals, which are in an exhibit at the Los Angeles County Museum of Art. This site lets you take a peak into these journals that tell his story from the time he was a young lad living in Africa during the early '80s up to the time of his death covering famine and violence in Somalia. He used photos, found objects, drawings and newspaper clippings to tell the stories of his adventures, memories and commentaries. Be sure to check out the Links section of the site to read more about Dan Eldon and his heroic life behind the lens.
Rustboy
Fans of Tim Burton's eerie stop-motion movies such as "Vincent" and "Nightmare Before Christmas" will drool over Brian Taylor's masterpiece in the making, "Rustboy." Watch movie clips with written commentary by the talented Taylor, or go straight to his diary and storyboards to understand the concepts behind this hypnotically beautiful dark fairy tale.
Art Car Fest
Why drive a boring Lexus when you can cruise the hood in an eye-popping art car? Check out this gallery of art cars featuring rides like Brother One Feather, which is has a beaded curtain on its fender, or the Camera Van which is covered in old, broken cameras. The more you gaze into these works of folk art on wheels, the more you'll want to cover your VW Beetle in plastic green Army men.