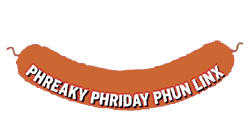 Dec. 7, 2001
Fork You
Remember that Uri Geller guy who claimed he could bend spoons just by looking at them? Well, meet Anya. Not only does she bend forks with her mind, she sells the utensil sculptures as well. After reading her essay about how easy it is to bend forks, I spent 20 minutes looking at one hoping for newfound psychic powers. All I got was a headache. Maybe I should try bending sporks instead.
Iron Chef USA
I'm a huge fan of the original Japanese TV cooking show "Iron Chef." So when some network head honcho decided to cash in on the cult show, replaced the wacky Japanese host with none other than William Shatner (yes, Capt. Kirk himself) and then called it "Iron Chef USA," I was dumbfounded. I'm not sure what this show will end up being like. The judges are actors and Playboy playmates, and it's filmed in Las Vegas. Unlike the original series, this USA version has an American chef. I wonder if the featured ingredient for the show will ever be Spam.
Orisinal
Some games are just so darned cute you have to spend at least one afternoon playing them all. At Orisinal you can save little falling chicks with umbrellas, feed hungry cartoon monkeys and float around collecting dots in a hot air balloon. The music is soothing and the game eats up time like crazy. Just click your mouse and play.
Who's The Boss Resource
If you can't get enough of this '80s sitcom starring Tony Danza, Judith Light and Alyssa Milano, this is the site you've been waiting for. Not only does it feature complete episode guides for all eight seasons, but you can get info on the spin-off shows like "Mona" and "Living Dolls." There's even info on the British remake of the sitcom called "The Upper Hand." Read some fan fiction or find out whatever happened to that actor who played the son.
BuzzWhack
This site is especially made for you poor souls out there trapped in meetings with corporate folks who can only form sentences using meaningless buzzwords like "co-opetition" and "employee rustout." Brush up on your buzzword lingo so you can sound important and knowledgeable in meetings too. If you have a press release from your office, or see a business article using an endless amount of buzzwords, nominate it as the Whack of the Week. Be sure to look up words you hear in the hallways in the Buzzword Complaint Dictionary. After all, you're going to look pretty stupid if you don't know what your boss means when he asks you to look into fixing the company's "data cholesterol" problem.
Underbelly
If you happen to be a belly dancer, then you might agree with me when I say that there aren't very many cool clothing stores catering to your unique lifestyle and profession. There's just not a lot of clothing options for street wear either. Underbelly hopes to change that. Not only can you find beautiful performance costumes, but their section of clothes you can wear when you're not dancing isn't too shabby either. You can even buy sofa covers and jewelry that reflect beautiful patterns found in Middle Eastern art. While you're browsing the catalog, don't forget to wander over to the site's belly dancing zine, Underbellydancer, as well.
Kiss My Freckled Ass Goodbye
Tough day at work? Tired of being your boss's personal lackey? Well time to tell him to pucker up. Or at least you can vicariously live through those who have already told off their bosses on Kiss My Freckled Ass Goodbye. Here you'll find letters people have written to their bosses telling them how they REALLY feel about their management "skills." With letter titles such as "You are a walking HR violation" and "If you ever pat me on the head again, you'll be drawing back a stump," you know you're in for a treat. Take the quiz to see if you should quit your job, or submit your own letter of honesty today.
Foam Props
If I had thousands of dollars just lying around my apartment, I'd shovel it into a bag and hand it over to these guys. Why? Just look at their site! They make potato and brain costumes for crying out loud! Plus if you want to pay them enough, they can pretty much create anything you want out of foam. Perhaps you'd fancy a gigantic foam moose statue for your patio, or a large cartoon cow's head for your steakhouse billboard? Need a six-foot-tall parrot wearing a sweater and galoshes for your trade show exhibit? No problemo! The possibilities are endless. All I want is a taco costume to wear while I'm cooking in the kitchen. Is that so much to ask? Hmmm?