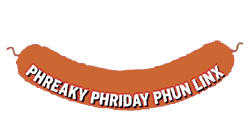 Jan. 4, 2002
Speedy Kitten
Some kittens are just too cute for words. But Speedy Kitten is extra adorable because he gets around using a specially made toy cart. Speedy was born without a pelvic bone and so he can't use his hind legs properly. To help Speedy walk around (instead of drag his little body across the floor), the animal doctors at his local clinic constructed a cart made from K'NEX toy parts. Now he zooms along and is one happy purr-machine. Check out his story on this site and don't miss the awww-provoking slideshow.
Demeter
Is your flowery perfume making people run in the opposite direction? Maybe you'd attract more people if you smelled like dirt or freshly-cut grass. Thanks to Demeter you can. These signature fragrances are subtle natural scents that give you an extra-special odor. You can choose to smell like grass, potting soil, figs, waffles, basil, birthday cakes, sugar cookies, fireplaces and so much more. There are even lobster and sushi scents! I'm a big fan of the fireplace and dirt scents, but the cut grass scent makes me sneeze nonstop. I highly suggest seeking this brand out and having a sniff test for yourself. Who knows? You may attract your soul mate by wearing something that makes you smell like a new car.
Funeral Cast
Have you ever been invited to a funeral, but didn't have the time to go? Or maybe you were too far away and couldn't fly to another part of the country? Well now you can attend all those funerals - virtually. Through Funeral Cast "you can watch your loved one's funeral, memorial and graveside service, or view online death notices and memorials from anywhere computer and Internet access is available." And if you are one of those morbid types who like to crash other peoples' funerals, now you can in the privacy of your own home.
Go in the Dark
How many times have you gotten up in the middle of the night to go to the bathroom and end up spending most of your time trying to find the toilet in the dark? Are you too proud to use a nightlight? Now you can get a throne you can't miss. This specialty toilet seat glows in the dark so you know exactly if the lid is up or down, and if you're out of toilet paper.
Jesus Band-Aid
For the deeply religious, or extremely paranoid, images of Jesus can be found everywhere - in pastries, wrinkled blankets, clouds and mashed potatoes. But this is the first time I've seen proof of Jesus showing up on a used band-aid. Personally, I think it looks more like Eric Clapton.
Cactus Recipes
The next time you're hiking in the desert and have some sudden hunger pangs, why not munch on some fresh cactus? Nopalitos and cactus leaves are edible and quite tasty if you know how to prepare them. Favorites include Nopales with eggs, added to soups or chili, mixed into tortilla fillings, or even stuffed with cheese and deep fried. How about some Grilled Cactus Pads? Or try the yummy Jalea De Cacto (Cactus Jelly). I wonder why Taco Bell doesn't have cactus on its menu. Hmmmm.
Save America's Clocks
Do you know where your local clock is? Is it a huge clock tower in the middle of town square, or an abandoned ancient ticker hidden by sky rises and trendy lofts? On this site you can find info about saving your own local landmark clocks, or gaze at photos of other town clocks across the United States.
Manties
They're silky, sexy and oh so comfy. So why should women be the only ones who get to wear satin panties? "Panties are for the gals but MANties are for the guys." I'm not joking. This is a real site. Order some for that special man in your life today! Heh.