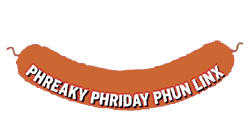 Jan. 25, 2002
Spizzy: The Cute Little Spine
Have you ever seen your spine? Hopefully not. But when you meet Spizzy, you'll wonder if yours wears tennis shoes and a blue baseball cap. Spizzy is the cartoon version of your spine featured in children's posters about spinal problems due to whacked out alignment. These chiropractor posters are for sale on this site, just in case you want to decorate your bedroom with Spizzy's many helpful messages. You can also buy Spizzy T-shirts and mugs! Of course, the most important feature of the site is the Spizzy costume rental. For $250 a day you can wear it around the neighborhood and yell at people to sit up straighter as they drive by.
The List of 555 Numbers
When you watch movies or TV shows and characters are dialing the telephone, do you ever notice they always start with the prefix 555? That's no coincidence. Think about it. If Bart Simpson prank called Moe's Bar, you wouldn't want your phone number to be listed would you? Every wiseacre in town would be calling you, asking for Moe. So thanks to many lawsuits and an unfortunate history of harassing phone calls, all TV shows and movies are required to use the 555 prefix for phone numbers. Browse this directory of every fake phone number out there. And the next time someone you don't like asks you for your digits you can give them Agent Dana Sculley's cell phone number from "The X-Files."
Fancy Deluxe
Emilie makes handbags with discarded doll heads and googley eyes. She dismembers plush toys and uses their cuddly heads and bodies to upholstered chairs. Emilie makes dress suits from duct tape and matchbook covers. Visit her site and see for yourself why Emilie is either a mad fashion genius, or perhaps the next Betsy Johnson. Either way, she's my hero.
Slow Wave
If you think YOUR dreams are weird, try reading about someone else's dream in comic book form. Berkeley cartoonist Jesse Reklaw writes down the plots of his unusual dreams and then illustrates them with cartoon panels that remind me a lot of those eerie Jack Chick tracts. A new dream diary comic is published every week, so check back often, You can even submit your own creepy dreams to Jesse for possible illustration! I wonder if he'd like the one I had about playing pool with a couple of human-sized, talking carrots?
People Cards
Why collect cards of baseball stars and serial killers, when you can start your own collection of ordinary Joes? People Cards is just that - photos and stats of normal, everyday folks doing their thang. They aren't celebrities, or even that good looking. You can buy these unusual cards at novelty stores, but also quite a few 7-Elevens and Wal-marts carry them. If you successfully refer them to a new store that wants to sell the cards, you get a free box! I'll trade you my construction worker card for that one of the geeky wedding couple!
Next Stop Nowhere
Living the life as a punk rock extra in TV shows during the '80s is downright impressive. Get the behind-the-scenes scoop on what it was like to play a punker in an episode of the TV show "Quincy" from someone who really did it, Pleasant Gehman. You'll also find out what other musical celebs were in the make-believe moshpit. You might be surprised to learn about how many punk legends were extras to pay the rent: Rick Wilder - lead singer of The Mau-Maus and John Roecker from the band X. It's pretty funny and ironic to read about the huge gap between what the punk scene was really like, and what TV producers thought it should look like. Gehman says, "Sometimes you had to do really dumb things that made you cringe, and caused everyone to make fun of you." And of course, she lists numerous examples. Ah, to be young, punk and gorging on free donuts at the craft-service table. Good times.
Personal Disco Dance Floor
Do you have the urge to do the Hustle? Want to disco anywhere, but don't have the colorful, lighted dance floor at the nightclub you haunt? No worries, just buy your own Personal Disco Dance Floor. For a mere $899, you can carry around a heavy block of disco floor that lights up with the music. It's like having an extremely tiny Studio 54 in your own house!
Vintage Skivvies: Underwear Ads from 1900-1969
Why should all those Victoria's Secret models get all the attention? What about the lads and their skivvies? Lucky for you this site exists. Check out these retro ads for boxers, athletic union suits, long johns and more! My personal favorites are the photo-essay type ads that have Ward Cleaver clones sitting around in their undies chatting about comfort. What a bunch of knit-wits, indeed!