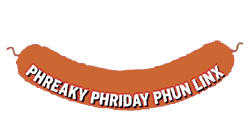 Feb. 1, 2002
Nose hair E-card
When you have to pry a message out of a nose using tweezers, you know it must be important. Send a greeting to pals or family members using this rather painful animated card. The card comes complete with ouchy sound effects.
Triangle Poster and Printing Co.
Snazz up those bare walls with retro carnival and circus posters from Triangle Poster and Printing Co. These vintage posters depict everything from creepy clowns to treacherous tractor pulls. And of course, the Monster Truck Rally prints are ideal for any bachelor (or bachelorette) pad.
Lynde Squares
There's no doubt about it, actor Paul Lynde was a huge smart-ass. But at least he made Hollywood Squares worth watching. This site makes note of some of his more memorable, and kinkier, comments during his long stint as the center square.
Peter Marshall (host): Paul, according to the World Book Encyclopedia, what is the main reason dogs pant?
Paul Lynde: Because they can't talk dirty!
Celebrity Tattoos
Celebs are no strangers to getting their bodies adorn by tattoos. Angelina Jolie has many (including one that pays tribute to her hubby Billy Bob Thorton) as does Drew Barrymore, Christina Ricci, Johnny Depp, Bruce Willis and the list goes on. Take a moment to browse through the endless array of photos showing off celebrities and their skin art. There are some interesting stories about a few of them, including how nine actors in "Lord of the Rings" got the same tattoo - an Elvish design meaning "The Nine" (for nine members of the fellowship of the ring).
SQRL Golf 2
Tired of playing a normal round of golf? Want to torment squirrels as much as they do to you? Play some squirrel golf and all your problems (or at least those two) will be solved. It's relatively easy, except for the fat squirrel. He's a little harder to aim.
Who Would Buy That?
I'm a big fan of trolling around on eBay.com, looking for some bizarre stuff to bid on. So when I found this site dedicated to everything odd up for bid, I couldn't resist. Updated daily, this site truly does find weird crap. This includes everything from clam shell folk art to clown nightlights that would give the bravest kid nightmares. Many of the bids are already closed, but it's still fun to see all the unusual items that could be living in your home right now if you had the cash and the courage to bid high.
Money Origami
You don't need to go out and buy fancy papers to make interesting origami creatures. Just take a couple of dollar bills from your wallet and make a pair of boots, eyeglasses, a butterfly or even an impressive spider. This site has step-by-step instructions that are super easy to follow. Soon you'll be tipping waiters with money shirts and mini sailboats.
Lip - poems by Holly Fleming
When I say the word "poetry" do you wince at a painful memory of a cafe poetry reading, or do you giggle and think of the dismal poems you used to write as an angsty teen? Holly Fleming poems may surprise you. I'm personally swayed by the eye candy collages (designed by Jason Babler) that frame each poem. Read her selections inspired by an odd topic - lipstick.