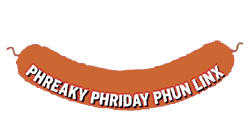 April 12, 2002
The Shrine to Don Knotts
Deputy Barney Fife. Landlord Mr. Furley. A talking fish. Yup, Don Knotts has played some interesting roles on TV and film, but lately I see him popping up in the weirdest places. Enid drew a portrait of him in the movie "Ghost World" and apparently it seems this fictional character isn't the only one obsessed with Knotts. On this shrine, you'll learn all about his life, his work and his long lost comedy album from 1961.
Fuzz Action Figure
Sick of your Star Wars toys? Are your Simpsons action figures boring to you now? Well, for a few lousy dollars you can own a real collectors item -- the Fuzz action figure. Who's Fuzz? He's an employee at the Archie Mcphee toy store and he needs to raise money to get out of his parents' house. The action figure comes with three interchangeable heads. Plus Fuzz looks a lot like a San Francisco hipster or even a comic book store employee. Imagine the fun you'll have playing with this one-of-a-kind toy. Plus, if enough people buy him, Fuzz will soon be living on his own like a real adult.
BookCrossing.com
What do you do with books when you're done reading them? Do you store them on a bookshelf with other books you'll never read again? Do you throw them out or pass them on to pals as last-minute gifts? Why not stick a BookCrossing.com label on it and abandon the book in a public space for someone else to pick up? It's great to see what types of books people leave for strangers. And if you happen to find one, you can go to the Web site, log in and say where you found the book and what you thought of it. The stories of how people came in contact with the books are sometimes more interesting than the books themselves!
Sew Wrong
Sewing isn't as easy as it looks. I remember in jr. high when I accidentally sewed my felt hamburger pillow project to my jeans. Needless to say, any of you who've attempted to make anything from a pattern can relate. Here's a weblog of someone who's trying to learn how to sew one day at a time. Check out Mena's progress on certain projects and send her some words of encouragement.
Weather Pixie
Need to know if it's raining in London or sunny in New York City? Better yet, would you like to see a cartoon character standing there in different outfits as you get the temperature? You're in luck.
Bacon + Log = Blog
If you enjoy a heaping plate of sizzling bacon from time to time, you'll love the Bacon Blog. This is a Weblog consisting entirely of thoughts about bacon. I feel my arteries closing up as I read this site.
The Dainty Show
Artists Andrea Lekberg and Sherri Wood redefine what "dainty" means to women with unusual mixed media pieces that include homemade fast food aprons, a vacuum cake, bridal doll portraits and tampon cozies!
Commando Chicks
It takes a lot of courage to dress up like a chicken, invade a grocery store with a sticker gun and place labels on frozen chickens that say, "WARNING: This package contains the decomposing corpse of a small tortured bird."