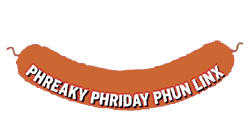 April 26, 2002
The Poem Tag Project
The next time you're about to put on a name tag for a mixer or a conference, why not write a poem instead of you name? Of course on this site you can express yourself with a virtual name tag and post it on your Web site.
The Sewergator Sanctuary
Don't let the urban legend of sewer gators fade away! Check out this site for the latest articles, books, movies and art all about alligators that dwell in the sewers of New York City and other urban environments.
Prepared Foods magazine
If I could subscribe to one trade magazine, this would be it. Where else can you get the latest press releases about new food products such as Kool Blue Ore-Ida Funky Fries (seasoned fries with a blue hue) and horseradish white cheddar cheese ice cream. Yum?
Subway Life
If you ever ride the subway in your city, you probably have noticed quite a few interesting-looking folks. Artist Antonio Jorge Goncalves sketched other passengers on subways from 10 cities including Berlin, Tokyo, New York and London. Take a look at some of his drawings and see if you recognize anyone.
Celebrity Caricature in America
I'm a sucker for caricatures. It takes talent to distort the face and body of a celebrity for a laugh. I wonder if there is a parallel universe full of all of us in caricature form. (Can you tell I'm watching Star Trek right now?) This site is a great resource for the history of caricature and the artists who make us look at movie stars and politicians in a different light.
Things Other People Accomplished When They Were Your Age
If you thought you haven't accomplished much with your life before, now you'll really feel like a lazy schmuck. I typed in 30 and discovered that Mark Twain published his first short story, Hans Christian Andersen published his book of fairy tales, Donald Trump persuaded bankers to lend him $80 million dollars and Samuel Morse's assistant, Alfred Lewis Vail, devised Morse code. Then again at age 30 Hank Williams overdosed on drugs and alcohol. So I guess I shouldn't feel too pathetic. Type in your age and see what you should have been doing by now.
Go Girl Pinball Machine
Finally, a pinball machine worth the praise of drag queens everywhere! "High scores result in 'wig mode,' which freezes the game's action and places a number of wigs on the screen (an auburn bob, a curly perm). A built-in video camera then photographs your face, placing it in the wig of your choice and storing your image so that it actually becomes part of the game. Before the action resumes, a drag queen whispers naughtily: 'That's the biggest wig I've ever seen!'"
Head Hunting: The History of Shuar
The next time you have a killer headache, visit this site. I never understood the hold purpose and culture behind shrunken heads. Now I do. Don't forget to browse through the grotesque slide show in the gallery.