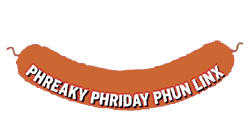 May 3, 2002
Big Bunny
Bunnies tell the scariest stories. Well, Amy Winfrey's animated bunny does at least. Check out this collection of animations of a rather gigantic bunny telling warped tall tales to small children. Amy also created a series of short animations featuring muffins.
Which High School Stereotype Are You?
Answer a few questions to find out if you were a geek, outsider, jock and other apt stereotypes in high school. (As if you didn't already know.) The quiz is a little touchy. If I answered the last question differently, I could have been a jock instead of the outsider.
50 Doors of San Francisco
The next time someone shuts a door in your face, take a moment to appreciate the beauty of the design. This site showcases some of the most elaborate door designs you'll ever see from homes in San Francisco. Hey, I think that's my flat!
Lemony Snicket
I have a weakness for macabre children's stories. When Edward Gorey died I never thought I'd find any other books of a similar vein. That is until I spotted Lemony Snicket. The stories are about "Violet, Klaus, and Sunny who are kindhearted and quick-witted, but their lives, I am sorry to say, are filled with bad luck and misery." Enough said.
Products of the Apocalypse
Sick of those snow globes featuring winter scenes and tourist traps? Maybe you should invest in some plague domes. Inside one of the globes is a swarm of locust instead of snow. Another dome is merely black and entitled "Three Days of Darkness."
Gnomes on Auction
Gnomes are freaky. Then again those people who obsessive collect gnomes are even scarier. Here's a site that pays appropriate homage to these crazy little men and the people who love them.
Ugly Dog Contest
Not all dogs are cute. This is proof. Then again, maybe these pups are so hideous that in a way they are incredibly adorable. Either way, these animals are something to behold. The pug in the Santa costume makes me shudder.
Micro Films
Little films for people who like to squint. Actually, I found this tiny cinema experience to be kind of quaint. The last film with the high heel shoe makes me want to look inside my sneakers.