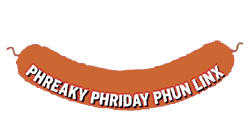 July 19, 2002
Trashlog
Do you pay attention to the stray papers and trash you step on while rushing off to work or to the pub? This site plays homage to trash found on the street every day. Whether it be ticket stubs, crushed soda cans or random beverage labels, you'll find it here.
Your Guide to Spotting the North American Rock Critic
If you ever go to a concert, you'll probably spot a rock critic in the crowd thanks to this site. I usually run smack into the Indie Thug, but you might be more familiar with the Zeitgeist Obsessive or the Gonzo. Read on to see which critic you might recognize at the bar.
Levers Game
I'm a sucker for sites that simply waste all my free time. This bizarre little game is addictive. Try to hang random objects on a series of hangers and levers for an unusual balancing act.
Benny the Anatomical Teddy
This could very well be the strangest teddy bear I've ever seen. The site states, "When trying to explain impending surgery to a young patient, and point to the exact location of the organs which need surgery, you look into the frightened and completely blank eyes of a child who does not understand the procedure." I'm not sure if disemboweling a teddy bear would comfort me at all before surgery, but I have to admit this toy is pretty cool. Benny even has a spleen! Impressive indeed.
Pet Pennies
Remember pet rocks? Now you can have another trendy pet for mere pennies...literally. President Lincoln's face does seem a bit more regal than a pet Chihuahua, but can you really cuddle with him? Then again, your penny will never puke on your carpet or eat your Boba Fett figurines. Imagine the money you'll save on pet food and treats.
Muppet World
When I was a little kid, I couldn't wait to watch The Muppet Show every week. That's where I discovered guest stars David Bowie, Blondie and Elton John. Plus I thought that Animal was the coolest Muppet around. (I blame him entirely for my attraction to crazy musicians later on.) Check out this site for the latest in Muppet entertainment. Be sure to watch MuppeToons on Fozzie's Cyberama! And dress Miss Piggy in different outfits and wigs.
Burton Car
I'm not a big fan of the PT Cruiser, but I have to admit I love the look of low riders and vintage cars. Not only does the Burton Car look like an authentic hot rod, it shares my last name. Right on. This site has specs on the car, features, photos and assembly info. Now I just need to pop on over to the Netherlands and pick one up.
Song Facts
Did you know that Jim Morrison recorded his vocals for "L.A. Woman" in the studio bathroom to get a fuller sound? Or that David Bowie's song "Heroes" was inspired by a German couple who met every day under a gun turret on The Berlin Wall? Discover the facts behind what inspired some of your favorite songs on this site. Or post info about songs you know and love. I found out that Journey's "Don't Stop Believin'' mistakenly uses the phrase "City boy born and raised in South Detroit." Apparently, there is no South Detroit. South of Detroit is a river. Heh.
75 Words or Less
Need to update your CD collection with some new music but don't know where to start? Here's a site that promises to review the latest CDs in 75 words or less. Quickly browse for bands you might be interested in and post your own comments as well. It's like a music review site and a blog all in one.