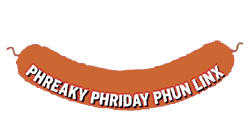 Nov. 15, 2002
Pee-Mail
Why would you send your pals boring email cards when you can write a message to the in the snow...yellow snow that is. Yup, you guessed. Tell a kid who just drank a liter of cola what to write in the show and he'll do it. I love the Web.
Movies Based on True Stories
If you eagerly sit on the edge of your seat while watching the latest based-on-a-true-story Lifetime TV movie, then you'll love this site. Read background info on movies that are inspired by actual events, inspired by a true story or suggested by actual events. Get the story of Susan Wilson who was secretly videotaped by her neighbor who hid small video cameras in her bedroom and bathroom. Many of the sections have photos and primary documents involving the event and photos of the real people who inspired the movies.
Bible Belts
If you think you're the God of fashion it only makes sense that you wear a bible belt...right?
Julie's Tacky Treasures
I appreciate anyone, who like myself, chooses to spend their hard-earned money on nothing but bizarre junk. Julie has an impressive collection of crap that includes outhouse salt and pepper shakers, a vest made from 20,000 rubber bands, a record of kazoo songs and a three-legged deer lamp.
Mean Kitty
Not all cats are cuddly balls of fur. Some are just plain evil. Discover why various cats act out on their owners, other cats and things that just aren't there.
Trash Log
One man's trash is another man's ... well, trash. Netherlands photographer Nico van Hoorn takes a half an hour daily walk looking for trash lying in the street; scans it and presents it online. He says, "I don't need to dig in waste baskets, there is enough trash to find in the street." This is an interesting look at what people simply discard in public areas. Not only are there loads of candy wrappers, but also broken cell phones, party hats, sewing kits, ripped nudie cards, ticket stubs, plastic utensils and more.
Drive Me Insane
When someone decides to give up his privacy for the sole quest of going insane, you have to wonder if the guy is already a nut. Case in point, Paul Mathis. He has put Web cams in his office, living room, den and front door so you can watch him go bonkers as you control whether or not his lava lamp and various lights around the house are on or off.
TV Acres
Even if you might be a TV trivia expert, this site could have some info you didn't know. Search the index for show details regarding everything from aardvarks to worms. You might be surprised to learn how many TV shows have garden gnomes as main characters.