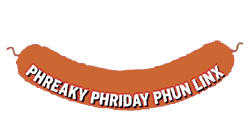 Jan. 31, 2003
Hub Cap Creatures
The next time you see a hubcap abanndoned by the side of the road, think of this site. Any artist than can create such amazing sculptures from discarded hubcaps is okay in my book. Many of the metal fish pieces are available for purchase in case you need something futuristic over your mantle.
Stewardess Uniform Collection
Ever since I heard that Hooters would be running their own airline, I've had stewardess (or is that air hostess? flight attendant?) uniforms on the brain. Thanks to Cliff Muskiet, you can travel back in time when airline uniforms were classy, feminine and dare I say snazzy? Many of the uniforms presented are from the airlines: Air Canada, Air Pacific, Singapore Airlines, Allegheny Airlines, Jet America and Aeropostal. In my opinion, China Air has one of the classiest uniforms, but who can compare with the huge hats worn by the employees of Cyprus Airways?
Isabel Samaras Paintings
If you like kitschy nude pin-up paintings and classic TV shows, this artist may make you jump up and down with glee. Isabel Samaras paints funky nude scenes featuring characters from your favorite TV shows such as "The Addams Family," "The Munsters," "Star Trek," "Bewitched," "Gilligan's Island," "Batman," "I Dream of Jeanie" and more.
Dear Strongbad
Nothing makes me giggle more than a fella in a Lucha Libre mask answering his email with sarcastic answers. Strongbad will make you laugh, cry and scratch your head all at once. Plus he'll answer YOUR questions if you send him an impressive email. Do yourself a favor and watch the animation entitled "Techno." (whoop. whoop.)
Extreme Urban Farming
What would you do if you found hundreds of bees living inside your walls? Get them the heck out of there, that's what! Witness a bee excavation from some folks who smoked the critters out and kept the honey!
Dog Nose Heaven
I didn't used to be a dog person until I found myself rescuing a Pitbull-Besenji puppy. Now I can't seem to stop saying "Awwwww" every time she does anything remotely cute. This site is for pathetic dog owners like myself. You have to admit these dog nose photos are pretty damn cute. Admit it!
Dream Anatomy
Medical drawings have always interested me. I love how a skinless human can look so beautiful. (Okay I realize that sounded creepy). On this site you'll find a gallery of some of the most intricate and bizarre anatomical illustrations around. Print them out and make unusual Valentines, or make a collage to give your favorite doctor!
Jenny Mae Creations
Do you like cutely grotesque dollies, voodoo dolls, sock oddities and other curiosities? This is what happens when your sock monkey is on drugs.
Tulsa TV Memories
TV junkies everywhere will appreciate this tribute site about children's specials, news programs and various shows that aired on Tulsa TV. Read about everything from a weatherman who used a hand puppet as a co-anchor to a creepy host of the scary movie show "Fantastic Theater." This extensive site has articles, photos, sound files and video clips of these memorable shows in action. What I wouldn't give to see Dan Rather tell the news using a pig puppet!