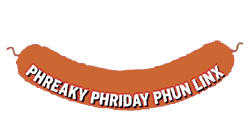 Feb. 7, 2003
Bar Code Art
They're on everything we buy, but most of the time bar codes go unnoticed. Some people even fear them! On this site, online art museum curator Scott Blake gives us a tour of everything about those mundane straight lines. Look at an animation piece that generates an array of random bar codes in real time, or gaze in awe at various cultural icons from Jesus to Oprah rendered using bar codes. Be sure to click on the flash project where you enter data about yourself to be bar coded!
Kittens Singing The Vines
If I had plenty of time on my hands and flash animation skills, I have a feeling I would do projects like this one. The main page of Rathergood.com is a cornucopia of bizarre animations that will make you giggle or scream depending which one you click on. The kitten links are the best. If you like bands such as the Vines and White Stripes, you'll dig these lively, little animations.
Acno's Energizer Game
This is one of those annoying online games that make you want to drop everything you're doing and play this all day long. I kid you not I played this for hours. HOURS! Now it's your turn. Good luck.
Ladies United for the Preservation of Endangered Cocktails
"This site is dedicated to the Gin Fizz, the Widow's Kiss, and the Singapore Sling, the drinks our mothers and grandmothers drank, and the drinks we strive to save from extinction as a small measure of remembering those great women and their great cocktail parties." Amen!
Planet Grrl
As a grrl myself, I'm all for supporting and promoting gal-related sites. Here's one from the UK that has all kinds of articles girls (and I bet some fellas) everywhere will enjoy reading. My favorite part of the whole site is Grrlsinrock. The section has CD and concert reviews as well as interviews and gossip. There's plenty to enjoy on this site so take your time and read it all!
Art Crimes
One person's work of art is another person's hapless victim. Or so it seems. Art Crimes showcases art that has been subjected to vandalism and radical opposition. Some statues have been beheaded while other works of art have been stabbed, torn to shreds, vomited on, pissed on, splattered with eggs, spray painted and more. Makes you wonder if the art is worth more partly destroyed. Hmmmm....
Public Lettering: A Walk in Central London
Typography isn't always appreciated when we're walking briskly down the sidewalk on our way to work or stumbling home from the pub. This site forces us to take a closer look at the lettering on buildings, storefronts and street signs as we stroll through London.
Museum of Hoaxes
Do you believe everything you read? Are you often called a sucker? Uh huh, me too. That's why I'm glad I came across this site so I don't fall for yet another scam everyone seems to know about but me. (Sheesh). The hoaxes on this site are organized by topics from anthropology to zoology. Jackalopes aren't real? Damn.
Odd Music Instrument Gallery
I bet you don't know what a bamboo saxophone looks like. Can you describe the sound a Bikelophone makes? Lucky for you this site exists. I was amazed at how many bizarre instruments exist. It makes me want to start a band just so I can play the Amazing Pencilina!