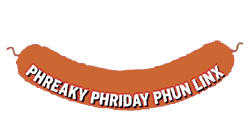 March 7, 1997
Corpses For Sale
For $20, you can build a life-size, realistic, decaying corpse in the privacy of your own home. All materials can be bought at local hardware and hobby stores. Learn how to install lights in the corpse's eyes to give off a bright glow that illuminates the whole eye socket. Take a look at the images in the gallery to see completed corpses.
Attack of the Quizzes
So you think you're pretty smart, do you? Test your wits against quizzes on dating, manners, driving, TV, geeks, talk shows, Miss America and many more.
The Bob Lancaster Gallery of Unusual Playing Cards
Are you playing with a full deck? Bob Lancaster is, and he's sharing his card collection with the world in this unusual gallery. His deck collection includes Louis XV cards, Waddingtons Christmas cards, Rockwell Space Shuttle playing cards, Big Dogs playing cards, and Beavis and Butt-head cards.
Interviews with the Vampires
Peek into the lives of people who sleep during the day and sharpen their canines to look like nifty vampire fangs. Salon magazine reporter Carol Lloyd interviews a real-life female vampire who actually drinks blood with the aid of a butterfly needle, and a male vampire who videotapes his blood rituals.
Disgruntled Housewives
Read this handy guide to life for the modern girl. Check out the essays on bad jobs, meals men like, things to think about and more. There's even a Pornography Poll and a list of jerks these disgruntled housewives would like to see shot.