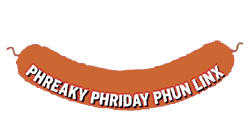 August 23, 1996

Graveyards of Chicago
When in Chicago, it's best to pay your respects in person, but now you can admire famous graveyards such as Graceland and Rosehill online.

BeerShots Gallery
BeerShots Website feature photomicrographs (photographs taken through an optical microscope) of the World's most famous beers. Imagine fractals with foam.

Camera Collector
Sometimes the camera can be more beautiful than the photos. Get a glimpse at some old cameras such as the Bantam Special, Coquette and Vanity styles.

3-D Web
A good use for those silly red and blue glasses.

Clip Art Connection
Undoubtedly the best collection of 1950s campy black/white clip art to hit the Web. Print out some for unusual stationary or grab some to decorate your home page. All copyright-free. So no worries about lawyers breathing down your neck.

Flame Rite
Before President Clinton has his way and makes smoking illegal, go here an buy a stylin' Zippo lighter with designs by comic book artists Clowes, Dorkin and the Herandez Bros.

Avoiding Corn
Food allergies can be a pain in the...stomach. "The purpose of these pages is to assist people who need to avoid corn in their diet, for whatever reason." Answer the questions that's been keeping you up at night: "Am I really allergic to corn?"

Polkacide
You think punk is raw and powerful? Try moshing in a pit with an accordion! This hardcore punk polka band from San Francisco may make you return your Doc Martens for wingtips.

Voodoo in New Orleans
You remind me of a man.
A man?
A man with the power.
The power?
The power of voodoo.
Voodoo?
You do?
What?
Remind me of a man...


Raindrop
What do you say to a little kid who doesn't understand why his dog is dead? Raindrop is a weird cartoon you're supposed to show your kid to make him understand what death is all about. If it wasn't so pathetically funny, it might be helpful.

Al Roker
NBC "Today" weatherman Al Roker has a site featuring trivia, weather, his own original cartoons and a peek at Al's personal journal. Almost as intriguing as the John Tesh site.
---
Return to Phun Linx Index