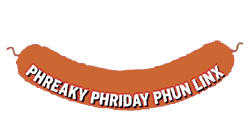 March 14, 1997


MIDI Karaoke
You don't need to embarrass your friends in a karaoke bar by singing hits of the 1980s when you can yelp online until your little lungs are sore. Sing classics like The Chapel of Love and New York, New York. Or try your best to croon the theme song for Gilligan's Island.

Rock, Scissors, Paper
Forget going to court or seeking the advice of a counselor when you can solve most problems with a simple game of rock, scissors, paper. If you don't have any disputes with people, you can test your wits against the computer. If you win, the computer makes a crying sound, but when you lose it cackles like a madman.

Battlestar Galactica
Battlestar Galactica is considered to be Star Trek's bastard cousin of sci-fi TV shows. It never gained the same popularity, but viewers everywhere did tune in each week to see the handsome fighter pilots, Apollo and Starbuck, battle against the evil Imperious Leader and Vulpa. Visit this site to look up expressions such as, "He sure did scare the pogees out of you" and, "Cut through the feldergarb and tell me the truth."

Mr. Rhodes' Shocked Classroom
It's fun to joke around in Mr. Rhodes' classroom. Based on the TV show Mr. Rhodes, this promotional site lets you laugh at his one-liners or chose a student to ask him stupid questions. Sometimes he talks but no sound comes out of his animated face, which can be just as entertaining.

Stay Tooned
Saddle up and rope some doggies in the weirdest corral on the Net. Fight against a mean guy in a tutu named Frank, or play a simple match of Concentration with animated GIFs of crazy animals and bizarre old men. Download some desktop patterns for your computer of the bizarre characters in these games.

Doctor Who Quotes
"Exterminate, annihilate, destroy!" The villians in the TV show Doctor Who often had interesting things to say. Doctor Who was more of a whimsical guy who offered jelly beans to the enemy. This man of many words would often say the strangest things in the face of death. Once he said to a sidekick, who was upset at losing his planet, "Sad, really, isn't it? People spend all their time making nice things, and other people come along and break them."

World Wide Holiday and Festival Page
If you think today is boring, maybe you're living in the wrong country. Go to this helpful guide of festivals and holidays to see which countries are celebrating what. March 18 is National Flag Day in Aruba, while March 19 is the Feast of Saint Joseph in Costa Rica. Some of the odd holidays include Evacuation Day in Egypt and Colon Day in Panama.