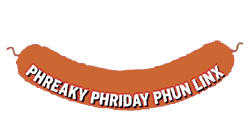 March 21, 1997


What would you do for a free T-shirt?
What would you do for a free T-shirt? Now there's one spot where you can try to win free T-shirts from companies such as AT&T, Gateway 2000 and Excite. Some of the giveaways involve filling out a survey, while others insist you use your creative talents in some capacity. The best shirt giveaway could be for the Beer-Belly of the Month photo and essay contest.

Cheesy Software
Download some silly rip-off games of arcade classics. Blast away bugs in Megapede, and balance bouncing balls in Mortal Pong. Save Cheesy Invaders for last because it's the best.

The Costume Page
Don't wait for Halloween to make your own historic costumes. The Costume Page has links to sites that teach you how to make your own armor, chain mail, corsets and masks. For wanna-be vampires and mobsters, there's a section devoted to making your own fake blood.

Hair Police
Ever want blue dreadlocks or pink braids but didn't know where to go? The Hair Police are here to the rescue. This unique hair salon has shops in Amsterdam and Minneapolis, but the staff will be on a nationwide "Spread the Dread" tour in a possible location near you. Get a free consultation online, or email one of the hairdressers for one-on-one tips. The shop was recently featured in a Best Buy commercial for its Web site, so see what all the fuss is about.

The New General Store
Sick of buying the same kinds of mainstream presents for friends and family? Trot over to the New General Store for some authentic Southwestern goods, like chainsaw-chiseled sculptures and homemade bolo ties. Snag some sterling-silver spur keychains and classic stick horses. And your living room will be the center of attention at your next dinner party when all eyes stare at your mounted jackalope head.

The Lassie Network
Lassie, come home. Meet America's favorite pooch on this fan site full of information, including a Lassie time line and trivia contest. Did you know Lassie's real name was Pal? Learn other interesting facts, and take a photo tour of this smart canine's past.