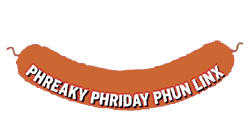 April 11, 1997


College Fight Songs
Two, four, six, eight, who do we appreciate? Look up your favorite college fight songs from Notre Dame, Michigan State, University of Iowa and many others. Sing along with the melody, or make up your own lyrics to college songs you don't like. Try singing a lively chorus of the Aggie Warhymn.

Altoids
These mints beat up the other mints. Probably the strongest mints on the market, Altoids have risen to cult status among its fresh-breath fans. Visit this official site to see old Altoids ads and tips on what to do with your empty tins. Enter to win a T-shirt by filling out a survey.

Bert is Evil
Sometimes you just have to seperate the man from the artist. In this case, Bert may play Ernie's lovable muppet sidekick on Sesame Street, but off-camera he's a regular hell on wheels. Get the dirt about his personal life, including a rather frightening mug shot from his latest arrest.

Gatchaman, BOTP and G-Force
Follow the five young heroes - Eagle Ken, Condor Joe, Swan Jun, Swallow Jinpei and Owl Ryu - as they battle the forces of evil. They all wear cool birdlike uniforms and fly around in their own personal fighter jets. This Japanese cartoon ran during the 1970s and was first named Gatchaman, then Battle of the Planets and then G-Force. Read the intriguing character bios, including the sad tales of why each of them are orphans. Download photos, sounds and movie clips of the heroes in action.

Ty Inc.
Welcome to the company home of the people who make Beanie Babies. The most amusing aspects of the site are the animated GIFs of the toys clapping and jumping around. Register to become an official Beanie Baby member, or print out a coloring-book calendar featuring the Beanie Baby characters. The site also has ideas for playing with your Beanie Babies such as performing a full play with the toys as the actors or torturing a sleeping cat by dropping the toys on it. Make little hats for them or out of them. The fun ideas never end!

The Women of Country Music Wrestling League
Forget about wrestling matches between Hulk Hogan and Andre the Giant. Wouldn't you rather see female country-western divas such as Shania Twain and LeAnn Rimes duke it out? Now you can, with the aid of this fantasy wrestling league page. Read a blow-by-blow report of Deana Carter defeating Mindy McCreedy, or find out who has Dolly Parton as a manager.

Killer Fonts
If you think you have horrible handwriting, check out John Dillinger's penmanship. This company sells fonts based on serial killers' handwriting. The sick uses for these fonts are endless. Print out your next resume in The Zodiac Killer's handwriting, or use Butch Cassidy's beautiful cursive font to type your next family Christmas letter. Some of the proceeds go to charity, so you don't have to feel too guilty for admiring the way Jack the Ripper dots his i's.

Experiences at Fry's Electronics
Sometimes you have so many bad experiences at a store that you feel like ranting to the world. Dave Schultheis has been to Fry's Electronics store enough to recognize the difference between bad service and obvious incompetence. Dave complains about everything from the two-direction checkout lines to trying to find the nonexistent person in charge.

Find-A-Grave
Some of the best places to find the stars are cemetaries. Check up on the corpses of such famous folks as Humphrey Bogart, Louis Armstrong, Judy Garland, Rita Hayworth and others with this grave directory. Some of their gravesites may surprise you. While Joan Crawford has a boring slab of stone for a grave marker, her nemesis, Bette Davis, upstaged her even in death with an elaborate statue by her grave. The words on Helen Keller's grave are written in braille. Some even have inscriptions such as Jean Harlow's gravestone, which says, "Our Baby," and Mel Blanc's gravestone, which says, "That's all folks."

Au Revoir Les Inmates
What do you think your last words before death will be? If you're at a loss for words, read this collection of witticisms from inmates on death row. Robert Alton Harris' last remarks where rather poetic: "You can be a king or a street sweeper, but everybody dances with the Grim Reaper." Charles Bass regretfully said, "Don't feel bad, Mama. I deserve this," while Warren Bridge simply stated, "See ya."