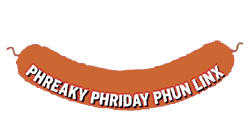 April 25, 1997


The Electric Examiner Bondage Files
It's not what you think. The Bondage Files are merely an archive of articles that never made it into the San Francisco Examiner, because the hard-nosed editors thought they were too bizarre. One of these true stories is about two brothers killed fighting over directions, and another is about a man who got his hand ripped off in a tug-of-war game. If you really like reading these stories, consider writing the editor and ask for stories like these to be covered in the newspaper more often.

Central Park
Too afraid the venture into New York's Central Park alone? Take a virtual tour of the famous recreation area without fear of muggers. Stroll over to see the scenic views from Cedar Hill, or admire the statues scattered throughout the area. You may recognize scenes of the park from such movies as When Harry Met Sally and Ghostbusters. Meet the dogs who love the park the most, under the Features section.

Roadside Art Online
If you travel enough on the road, you might begin to see everyday objects in a new light. Commercial signs for truck stops, gas stations and liquor stores can turn into art right before your tired eyes. This online gallery features photos of unique signs that stand apart from the mainstream McDonald's golden arches. Sit in awe at the stylish neon hotel signs of the Midwest, or stare helplessly at the big chicken statues guarding the Shadey Lawn Truck Stop in Elkton, Tennessee.

Too Much Coffee Man
Imagine if you were a comic book hero that drank way too much coffee. You'd have bulgy eyes and little patience. Too Much Coffee Man strives to stay up late to save the universe. Read sample comics featuring our hero losing his cool with those around him, or order hip T-shirts with the comic's logo.

Cemetery Clip Art
It doesn't have to be Halloween for you to appreciate images of skeletons, gravestones and the Grim Reaper. Download cemetery clip art to dress up your stationery and shopping lists. Print out the Angel of Death and tape him to your computer. Everyone could use a little darkness to brighten up the day.

The Top 100 Things I'd Do If I Ever Became An Evil Overlord
Hate your job? Consider changing careers to become an evil overlord. Peter Anspach has thought in great detail about what he'd do as an overlord. He's decided that his helmet, which all evil overlords wear, will be made with a clear Plexiglas visor as opposed to a face-concealing one. He also will not give his prisoners any last requests or large vent ducts to escape through. This site has a lot of good pointers to follow for all evil leaders-in-training.

Claire Danes
Claire Danes isn't just a modern-day Juliet; she's almost a spokesperson for the younger female set of Generation X. Listed as one of the top celebrity fan sites on E Online, this page has everything you ever wanted to know about this up and coming actress. Read about the new movie deals she's signed up to do. Download videos of Claire at the 1997 Academy Awards show and clips from her last movie, Romeo and Juliet. Die-hard groupies will appreciate seeing the clips from her first brush with stardom as Angela on the short-lived TV show, My So-Called Life.

Los Angeles Coroner's Office FAQ
Don't wait until your best friend is caught in the crossfire of a drive-by shooting to learn all about the Los Angeles Coroner's Office. Find out whether or not you'll ever be asked to view a dead body for identification purposes at the Coroner's Office, and learn why some bodies don't need autopsies. If the body is a relative, you may be asked to pay storage costs.