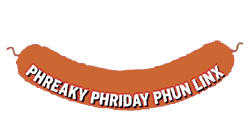 May 2, 1997


The Positive Press
Sick of hearing about death, destruction and dismay in the news? Now you can read all the daily headlines and stories online without a frown. The Positive Press searches mainstream newspapers for stories about human kindness and compassion. It even found a positive story on Bill Gates, who donated $2 million to charity.

Men in Black
If you've seen a ghost or think you might have been abducted by aliens as a child, read on. The Men in Black zine features articles about everything from alien technology to mysterious monsters. The editor even has a column addressing the strategic uses of ghosts in counterintelligence situations. If you still don't believe in paranormal phenomena, the site at least has a handful of interesting animations, including one showing Mother Earth exploding.

Gentle World
Mix musicians, with names like Honeymink and Valentine, and a cat named Jonson, and you get a British band called Gentle World. If their music is as hip as the Web site, they could be topping the charts soon. Read the pithy bios of the band members, or follow suggested links to Tiki god sites. Somewhere on the site are sound files of the band's latest tunes from the Soundtracks for Living album.

Top Secret Recipes
Starving for Mrs. Fields chocolate chip cookies and Taco Bell Mexican pizzas but don't have a dime? Make your own versions of these tasty morsels with the secret recipes the restaurants use. Fry up an In-N-Out Double-Double hamburger, and wash it down with homemade Snapple iced tea.

The Astounding B Monster
So you think you're a B-movie fan, do you? Can you name an original cast member of The Man From Planet X? Do you know any of legendary actor Robert Clarke's films? The Astounding B Monster is a Web zine devoted to the low end of 1950s horror and sci-fi movies. Read interviews with actors such as Ann Robinson from War of the Worlds, or look up possibly cheesy movie rentals from the list of all-time top 10 hot-rod films.

Bonika's Butlers
Ever been served drinks by a butler wearing both a zebra outfit and a tuxedo? Now's your chance to rent a wild-animal suit and a tux for that next formal event. Imagine the surprised look on your next date's face when you show up as a lion, or crash a wedding looking like an elephant. The penguin in a tuxedo seems a bit redundant, though.

The Cult Construction Set
If you missed the Heaven's Gate mother ship, you can still be a member of a new cult. In fact, take matters into your own hands, and start a cult all on your own. It's easy to rally the masses once you've created a cult with this simple form. The site helps you decide which practices your cult will support, such as alcoholism and obesity. Choose which actions your cult will take against sinners, and who you plan on naming the Anti-Christ.