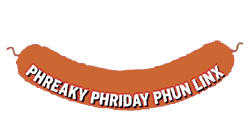 May 30, 1997


Wizard of Oz with Dark Side of the Moon
Pink Floyd fans have discovered a new way of watching the MGM movie classic, The Wizard of Oz. Supposedly, if you play the movie and use Pink Floyd's album Dark Side of the Moon as the soundtrack, eerie things happen. For example, loud chimes and bells ring when the wicked witch appears on screen riding her bicycle. Another unusual tidbit is that the first side of the vinyl album is exactly as long as the black-and-white portion of the film. The cash-register noise in the song Money is heard right as the film turns to color. Many of the characters in the film lip-synch some of the words in the actual songs on the Pink Floyd album. Be sure to try this experiment with a group of friends; you don't want to be alone when you hear the heartbeat of the Tin Man from the album.

CHiPs Online
When we were kids, my little brother used to watch the TV show CHiPs and then pretend to be Erik Estrada's character, Ponch, as he rode his Huffy bike around the neighborhood. CHiPs featured cops who were as serious about fighting crime as they were about relaxing with cute girls at disco roller rinks. After every action-packed motorcycle chase - when Larry Wilcox's character, Jon, always seemed to skid and crash - the guys would hook up with Charlie's Angels look-alikes at the end and go dancing or on a picnic. For a nostalgic look at one of the most memorable cop shows, visit this Web site. This TV resource has an extensive episode guide, a mailing list and even pictures from Estrada's new book, My Road from Harlem to Hollywood.

Chicago Murder Sites
Follow photographer Harlan Wallach as he takes pictures of some of Chicago's scariest murder sites with his pinhole camera. These stark images could be art in themselves, even though they were taken with something as simplistic as a pinhole camera.

The Unofficial Breakfast Club Quotes Page
Does Barry Manilow know that you raid his wardrobe? Remember the misfits in detention in the John Hughes classic, The Breakfast Club? Here's a site listing some of the memorable things the characters say to each other in the movie. Maybe you'll even reminisce about high school detention.

The Fray
This zine wouldn't be that impressive anywhere else, but because the designers behind this thing understand the Web, it looks amazing on a computer monitor. If you're thinking about starting your own Web site, you should spend some time taking notes on this site. Aside from the interesting use of online space, this zine also has personality-saturated essays on street crime, voting and romance.

The Damn You Ed McMahon Page
These boys haven't won the Publisher's Clearinghouse Sweepstakes yet, and they're blaming spokesperson Ed McMahon. Not extactly what you might call a fan site, these webmasters explain in great depth why they hate Ed and ask if indeed he is the Antichrist.

FooFoo's Cat Astrology
Who cares about your measley horoscope when your cat's future is much more important? Let FooFoo predict the day for your feline, or pretend you're a cat and follow FooFoo's worthwhile advice.

Papa Smurf Is a Communist
Once you quit giggling, you'll realize how you and many other children have been brainwashed by Smurfs. Papa Smurf and his gang of blue creatures may be a front for communist propaganda. After all, the Smurfs never used any money, they all had a similar uniform (white hat and pants), and everything is shared among them. The Smurfs also preached that every member of their society was as important as the next. Individuality was often shown to be a bad trait, and the only two characters that are looked down upon are Greedy and Vanity (key effects of capitalism). According to the site, the most disturbing but obvious evidence that Smurfs are part of communist propaganda is Brainy Smurf's strong resemblance to Trotsky, the high-ranking official under Lenin.