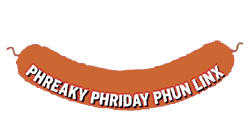 June 6, 1997
Bridge to the Future
Remember those promotional movies that elementary school teachers would show in health class? Check out this fan site dedicated to the 1951 film Bridge to the Future. It's a 20-minute story about Bob Lansford as he visits a private engineering university called the Worcester Polytechnic Institute. In the movie, he becomes a student there, snags a faithful girlfriend named Betty, graduates and then almost jumps off a bridge. As with most promotional films from the 1950s, the acting is bad and the message is cryptic. This fan site has more information about the film, including images and credits.
Land of the Lost
Mix Gilligan's Island with Jurassic Park, and you'll get the classic 1970s TV show, Land of the Lost. Meet Marshall, Will and Holly as they live among the dinosaurs and weird alien creatures called the Sleestaks. This site has extensive episode summaries, photos, theme-song lyrics, and even a Pakuni-English dictionary so you can understand what the natives are saying.
The Bulwer-Lytton Fiction Contest
Are your fiction-writing skills really bad? Do people giggle at your horror stories? Would your friends poke themselves with sharp pencils rather than read your latest story? Perhaps you should put your lack of talent to good use and enter the Bulwer-Lytton Fiction Contest. The contest asks would-be writers to submit their worst work in detective, romance, science fiction and other genres. Sentences can be any length. For inspiration, you can read miscellaneous samples sent in from the most recent competition.
The Acme Dolly Parton Page
She's working 9 to 5, and then some. Not every country singer can say she has her own theme park. This Dolly Parton fan page has all the goodies you'd expect from a stalker: a biography, news, photos, and links to information on her music and TV and film appearances. Y'all come back now.