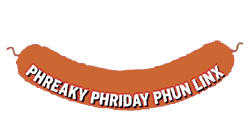 June 13, 1997


The Bionic FAQ
What profession did Jaime Sommers have before she was a bionic woman? What body parts are bionic on the Six Million Dollar Man? What book was the series based on? Get answers to these trivia questions and more on the Bionic FAQ. There is plenty of interesting information on both TV shows, The Six Million Dollar Man and The Bionic Woman. Discover how fast the Bionic Woman can run and how far the Six Million Dollar can see. The FAQ also includes rather obscure sections such as a list of Jaime's jewelry and lyrics to the TV theme songs.

Rate Your Risk
Are you a walking target for murderers and thugs? Take a simple survey to find out how vulnerable you are to attacks from people who want more from you than the time of day. Your salary, job title and drinking habits could kill you.

Mulder Glasses Shrine
If you're a fan of the unusual TV show The X-Files, then you might like this online shrine dedicated to one of the show's main characters, FBI agent Fox Mulder. What makes this site different than most fan sites is the fact that it only pays tribute to Mulder when he wears glasses in an episode. Check out all the images of him wearing specs, or read some of the fan fiction written by fans who like their agents to have four eyes instead of two.

Learn2: Burp a baby
Learn2 is a site where you can learn how to do useful things such as make pizza dough, build a campfire, change the oil in your car and the like. But one of the more interesting sections is on how to burp a baby. If the instructions don't get you to giggle, the illustrations of the desperate mom shaking her child might.