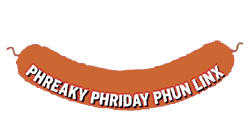 June 27, 1997


The I Can Eat Glass Project
Lost in Spain without anything witty to say? Forgotten how to ask for the directions to the bathroom in German? Want to impress a tribe in Africa? Now you can learn how to say "I can eat glass and it doesn't hurt me" in various different languages, including French, Dutch, Chinese, Russian and even Swahili.

Dr. Bukk
Having perfect teeth can be overrated. Try smiling with some ugly chompers to really stand out in a crowd. Dr. Bukk helps people find the best fake teeth to suit their moods. Want to look like you've smoked one too many filterless cigarettes? Or maybe you'd like to look like an extra for the movie Deliverance? Search for your new teeth in the photo index, or read comments from satisfied customers. Before long you'll have a gruesome grimace to show off at the next family gathering.

Roadside America
Family vacations can be a bore and a half unless you stop at all the kitchy places along the way. America is packed full of odd little tourist sites that are off the beaten path. Categorized by state, the site allows you to find weird museums and bizarre animal petting zoos in your area or wherever you may be headed. Everything from beer-drinking goats to alligator farms are within your reach. Use this offbeat-attractions guide to transport yourself to the Fairyland Caverns and the Mother Goose Village. Remember to take pictures!

Mummification for Pets and Animals
Don't flush Fluffy the hamster down the toilet when you can keep your dead pet close to you for all eternity. Don't worry, you don't have to do the actual dirty work. All you have to do is send your pet to the Summum Science of Mummification along with a check for $4,500. But don't forget to send your dead pet in a plastic bag surrounded in ice, or your stuffed Fluffy might come back looking like an extra from the movie, Pet Sematary.

Fossilized Human Finger
You probably won't see anything as gross as a fossilized human finger. And now you can see it up close, without the nasty smell, on this Web site. The Creation Evidences Museum found this finger in a gravel road. Scientists think the finger belonged to someone who was "rapidly buried in a catastrophic event long ago."

Melty
Think of Melty as the kind of online zine your hip best friend would design. Read essays about Ms. Melty's obsession with Martha Stewart and Billy Childish. Discover the intimate tale about a fading grandmother. And best of all, sneak a peak at sorid confessions in the Diary of a Feminist Sell-Out.