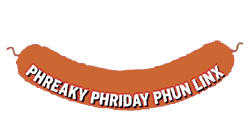 July 4, 1997


Stay Free
Here's a zine that's not afraid to take on Mattel and McDonalds. The current issue deals with the topic of marketing to kids. Author Steven Kline explains why the V-chip for television should be converted into an A-chip which would block advertising to children. Stay Free also explores the obsessive side of Disney-merchandise collecting and the seedier side of Barbie's true origin. After you're done reading this issue, take a look at other articles in previous issues on conspiracy theories, the Pillsbury Doughboy and dating tips.

International Belt Sander Drag Race Association
Nothing's more thrilling than seeing two belt sanders race side by side down a narrow path as the crowd screams and hollers for the winner. I'm not making this up. People really do race power tools, and this Web site has the photos to prove it. Originating in 1987 at a lumberyard in Point Roberts, Washington, the event has now gained so much popularity that over six hundred people come to watch the race every year. Read the IBDA rules and track specifications so you'll know whether you should race with a regular sander or a highly-modified turbo sander. Or you can just buy a belt-sander t-shirt and pretend to race.

Tire Ashtray Collecting
I don't have to smoke to own these tacky promotional ashtrays from tire companies. The first tire ashtray was made out of glass and metal. The actual rubber tire ashtrays didn't come about until the 1920s. It's not too clear why someone would even want one of these ashtrays, but if you find one at a garage sale, it might be worth something.

One Foot in the Grave
Remember when the Sex Pistols reunited last year and everyone was teasing the guys by calling them the oldest punkers in the world? Well, the critics were wrong. There's a punk band full of members who might even be called geriatric. One Foot in the Grave is a punk band from a retirement community in Arizona. The band's lead guitarist is 78 years old. Crank up the volume on your computer speakers and listen to their current hit song, "Lookin' Good! Who's Your Embalmer?" The band also has a few other songs that the aging audience might enjoy - songs like "I've Fallen and I Can't Get Up" and "Aches, Pains and Capital Gains."

Taco Bell
So what if this is a commercial site? It's still quite original for a corporate gimmick. Not only can you locate a Taco Bell store near you and check out the full menu, but you can also send a CyberPal a taco or find a soul mate in the Dating Connection section of the Taco Bell chat room.