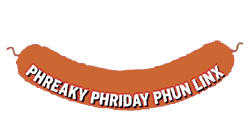 July 25, 1997


Lava World
Soothe your senses by staring into a mesmorizing lava lamp. Studies have shown that lava lamps not only reduce stress, but spark creativity. Here you can learn how to take care of your lava lamp so it has a long life, or read about the history behind this pop culture symbol. There is also a section which pays tribute to specialty lava lamps that are no longer for sale, such as the Enchantress Planter Lava Lite Lamp (you could grow flowers around it) and the Continental Lava Lite Lamp (cordless and non-electric so you could take it anywhere).

World Hug Week
How powerful is a hug? Find out when you hug a stranger during the week of July 13-19, 1998. This site challenges you to hug three people a day and then ask those three people to hug three other people. It's like a physical chain letter where everyone ends up happy. Or, better yet, don't make human contact at all - send a virtual hug instead.

The Internet Conspiracy Generator
Don't even attempt to keep abreast of the latest conspiracy theories, when you can use this helpful Internet Conspiracy Theory Generator. Before you know it, you'll discover that Alanis Morrissette is tied to the Clinton campaign-contribution conspiracy and that Fidel Castro might have a secret Nike contract and a connection to UFOs.

The Love Boat
Any show that has Charo as a regular guest-host has got to be hip. Join Gopher and the rest of the gang on the Love Boat fan site. Here you'll learn about the cast, guest stars and the boat itself, the Pacific Princess. Come aboard for something exciting and new.

IDrink
Having a cocktail party in ten minutes but don't have much alcohol? There's no reason to fear your pals' ridicule, when you can use this database of drink recipes to develop memorable concoctions. All you have to do is enter the ingredients you already have, and it will list the drinks you can make. Even if all you have is some gin, ice cream and water, you can still whip up a London Freeze or a Silver Stallion Fizz. The site also has recipes for non-alcoholic drinks.