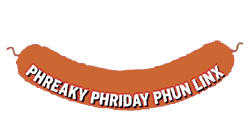 August 1, 1997


Elvisians from Another Planet
On the night Elvis was born, Vernon Presley saw a blue light over Tupelo. Some Elvis fans suspect that it was a UFO and that Elvis fans are located not only on Earth but also in other regions of outer space. They call themselves Elvisians, and this is their site celebrating Elvis in arts and politics.

The Jeffersons
Movin' on up, to the east side, to a deluxe apartment in the sky. Of all the TV shows from the 1980s, the Jeffersons is one of the most popular sitcoms still in reruns. Where else could you find a wisecracking maid, a weird British neighbor, a hip interracial couple and a stubborn laundry owner? Some thought that the Jeffersons was way ahead of its time because it was a comedy, yet often dealt with issues such as racism (both black and white), sexism, street violence and divorce. This page tells you all about the characters and what the cast is up to now. Don't forget to sing along with the theme song before you go.

Super Marketing Ads from the Comic Books
Remember those cool ads in the back of comic books? You could buy a pair of X-ray specs, hot pepper chewing gum and a minature secret camera, all from one order form. This site celebrates some of the better advertisements, including ones for Sea-Monkeys, Silly Putty and lab kits.

Morbid Fact Du Jour
Some historical facts sound too weird to be true but are. Every day, the Morbid Fact Du Jour site reveals an unusual tidbit you probably didn't know already. Some of these short tales seem to be borderline urban legends. For example, a boy dressed up as a vampire for Hallooween.He wanted his appearance to look realistic, so he rigged his costume with a stake going through his heart. The only problem was that he wanted the stake to be lodged into his costume and when he lightly hit a hammer against the end of the stake, he accidently impaled himself. Oops! This is an excellent site to visit when you're having a bad day. You'll soon feel grateful you're not one of these sad lots.

Models in Masks
Beauty is in the eye of the beholder - or at least the eye of whoever wears a gas mask. This site pays homage to beautiful models like Cindy Crawford and Carol Alt who, with a few Photoshop tricks, wear gas masks. The site is a game in which you guess which model is hiding behind the gas mask. How long will it take you to get to the bonus round?

MrBiggs.com
The first thing you'll notice when you visit this Web site is the huge graphic of a transparent guy chuckling. Actually, this is much more than a sly attempt at shameless self promotion. Illustrator Brian Biggs shows off his talent with samples of his work from such magazines as Salon, MacWorld and Guitar Player. And if that isn't cool enough, he also illustrates a comic book called Dear Julia, distributed through Black Eye Productions.

Stelarc
Would you trust people on the Web to control your body? The performance artist known as Stelarc did. He hooked his body up to the Net through sensors and allowed people to control it over the Web. He called this section of his performance Ping Body. Lately he's been working on another project, called Parasite.

The Simpsons House
If you could build any kind of house to live in, what would it look like? The Addams' family haunt - or would you go for the Barbie dream home? One family decided to pay the ultimate tribute to their favorite cartoon, and made a house exactly like The Simpsons'. On this site you can browse photos and blueprints of the house. Read an interview with architect Michael Woodley, or find out how you can visit the amusing home. There goes the neighborhood.