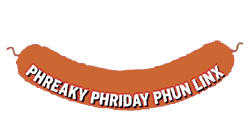 August 8, 1997


Ben Katchor
Follow around cartoonist Ben Katchor as he wanders around New York City. He keeps an illustrated diary online through the magazine Slate. Read his people-watching comments which include a chihuahua with manicured bright red nails, or simply gaze upon his amazing illustrations.

Wade's Photobooth Gallery
When is the last time you stepped into a photobooth and had your picture taken? Now there's an incentive for getting a strip of silly photos - Wade's Photobooth Gallery. Wade has a collection of photos from people who've gone inside photobooths. Wade asks them hard-hitting questions such as what's their favorite type of severe weather and preferred building material.

The Gallery of Regrettable Food
Memories of school cafeteria food may come flooding back after you visit the Gallery of Regrettable Food. Try to stomach the photos of the Salmon Surprise and the Macaroni Meatloaf Bar. If you're planning a dinner party of your own and want to drive them away at the end of the night, try serving unusual entrees such as South-of-the-Border Cheesy Meatloaf. Either way, this is an entertaining site for anyone who was told they had to eat everything on their plate before they got dessert.