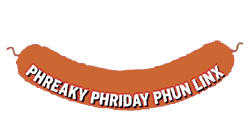 August 29, 1997


Superhero Cartoon Database
It's a bird! It's a plane! It's a superhero family reunion! Discover the deepest, darkest secrets of all your favorite characters on the Superhero Database. Batman, the Thing, Wonder Woman and the rest of the gang are all here.

The Tor Johnson Web Page
You probably remember Tor Johnson more for running into walls by accident in Ed Wood, Jr. B-grade movies such as Plan 9 from Outer Space. But did you know he started out as a successful professional wrestler? This shaved-head giant didn't always play zombies and monsters with his longtime friend Bela Lugosi. Tor also had a bit part in the musical Carousel, as well as guest star appearances in the shows The People's Court and Bonanza. Read all about him from the biography, or test your knowledge of Tor in the trivia game.

Internet Braille Wizard
Ever wanted to see your name written in braille? Now you can translate any word in braille online with the Internet Braille Wizard. The site also has links to RealAudio pages for people who can hear Web sites instead of seeing them.

Carmelnet
How well do you know your nuns and saints? On Carmelnet, you can learn all about the Saints of Carmel, such as Mary of the Incarnation and Mary of the Angels. The site also has general information on the Carmelite Rule, the Carmelite ministries, and the National Shrine of St. Therese and the Society of the Little Flower. The gallery of Carmelte Saints is the best part of the site. It includes portraits of the saints along with short biographies about their lives. You can also take a tour of Aylesford in America, the Carmelite complex in Darien, Ill.

Corvi Chronicle
If the only raven you know is the one in Edgar Allen Poe's poem, it's time to brush up on your bird facts. This online newsletter is for the members of the American Society of Crows and Ravens. With plenty of articles on legends, crow calls and habitats, you can't go wrong. The site also has member poetry about their feathered friends.

Besmirched
Every once in awhile, a zine comes along that perks up my ears and knocks me out of my information-overload daze. This is one of those zines. Besmirched has interviews with Go-Go's ex-guitarist Jane Wiedlin and independent filmmaker Sarah Jacobson. If that weren't cool enough, the zine also has articles about underground comic book artists Ed "Big Daddy" Roth and Mary Fleener. If you still want more, you can always send a dollar and three stamps for the print version.

Arcade Games
Take a break from work, and play with a few unusual Java and Shockwave games. Play 3D-Blox where you help Pistol Pete the penguin collect gold coins before a huge eyeball kills him. Or try your luck coaxing spaceships into exploding with the game Alien Mines.