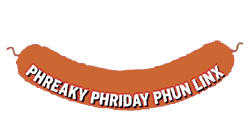 Sept. 5, 1997


Children's Past Lives
Your child might not be talking to an imaginary friend, but instead regressing into past lives. If you're a New Age kind of parent, you might want to take a look at this site based on the book by Carol Bowman. For an excellent read, skip right to Chapter 1, entitled Chase and Sarah. Read the story of boy who claims to have been a Civil War soldier in a previous life.

Dewey Webb's Objet of the Week
What's cooler than a packet of Three's Company trading cards? Perhaps a Colonel Sanders bank or a Magic Rock kit would be more to your liking? Take a journey into junk, with this online museum of kitch culture. Just be sure to keep hitting the link that says "Previous Week's Objet."

Elated
Whether you're a beginning Web designer or an old pro, jazz up your site with animated buttons from Elated. You can download free graphics from the site's ButtonKits (like we did here with the lava lamp animation), or download free Photoshop filters instead. Some of the cooler animated GIFS Elated has are the TV set, escalator and ringing phone. Don't leave this site without looking through the gallery complete with cartoons and abstract art.

Coney Island
Spend an afternoon at Coney Island. Also known to natives as Brooklyn's Playground by the Sea, Coney Island has tons of fun things to do and experience. On this site, you can peek into the sideshow tent to see posters advertising human curiosities such as the snake charmer and the human blockhead - he hammers nails into his skull - who continue to perform for crowds. Read about other adventures to be had at Coney Island, including the Parachute Jump, the Wonder Wheel and the Hell Hole.

Weevil's Warren
Rebecca, or Weevil as she goes by online, has a hot tamale of a Web site. Do you know anyone else who has an FAQ all about herself? She's one heck of a story teller, too. She describes her quest for a non-gender-specific login name, and her startling revelation in discovering that her real name and middle name loosely translate to mean "damp suicidal tied-up diseased cow." Go directly to the Weevil Cold Hard Facts section to read all about her girating Elvis clock, her fascination with Audrey Hepburn, and her dying house plants. You won't be sorry.

South Park
Have you seen the hippest cartoon on Comedy Central, called South Park? It's about a bunch of hyperactive lads who live in Colorado and always end up in trouble. On the first episode, one was abducted by aliens; another time one of them overdosed on protein drinks. The humor is twisted and the characters aren't deep, but you'll laugh for hours on this site. Watch Real Video clips of the show, or catch up on missed shows with the episode guide.

Elvisomatic
It's like paper dolls, only you're dressing up a fat Elvis. Choose his hairstyle, shoes and costume. The best combination: put Elvis in a nun outfit, riding a skateboard.