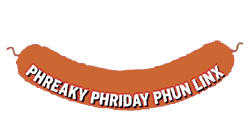 Sept. 19, 1997


NIC Law Enforcement Supply
Crave a cool CIA baseball cap but don't want to join a government agency to get one? No problem. On this site you can buy CIA collectibles, police badges, alternative passports and special ID cards. The rubber stamp section has official stamps that say "Top Secret" and "This Document Officially Does Not Exist."

Goreyography
You might recognize Edward Gorey's illustrations from the introduction animation of the PBS series, Mystery! But Gorey also has an extensive list of books he's created for children, as well as book cover designs for classic novels by Franz Kafka and Joseph Conrad. This site is still mostly under construction, so keep coming back to see new sections develop.

Jurassic Punk
Sometimes it's fun just to download and watch short snippets of cartoons and movies for the afternoon. On Jurassic Punk you can see clips from The Simpsons, Earthworm Jim, Akira, Alien, Barb Wire, Reservoir Dogs and much more.

Justin's Game Show Shrine
Imagine winning thousands of dollars for answering correctly a question about laundry detergent or a movie? People who love watching game shows will appreciate this site. Justin's Game Show Shrine has information and links on classic shows like Press Your Luck, Jeopardy, The Price is Right, Debt and others. He also has a review of the worst game show of the month - Shopper's Casino.

The Ultimate Bad Candy Web Page
Nothing bites more than a bad piece of candy. Read the reviews of which candy is the worst before Halloween hits and you'll be a happier trick-or-treater. The worst review was for a candy called El Sabroso which is nothing more than nuggets of dried plum caked in salt. Yuck!