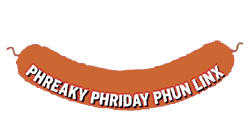 Oct. 10, 1997


Glass Dog
Anyone who has a Web site or is thinking of designing one from scratch should spend some time on Glass Dog. This site has so many great design ideas your head will hurt from all the eye candy. In the design-o-rama section, you can learn everything there is to know about using frames, tables, various fonts, sounds and basic style sheets. Aside from HTML lessons, the site also has travel stories and journal entries.

Mr. T versus the Klingon Empire
Don't say you never imagined it! Who else could successfully defeat those mean Klingons than Mr. T himself? At the request of Captain Picard, Mr. T gets in the A-Team van and makes the Klingons look like sissies, in this epic tale between good and bizarre.

Pug Park
Pug dogs are so darn cute. At least, this Web site proclaims their beauty. Enter the Pug Park to appreciate this breed with arts and crafts ideas. The park begins with many birthday wishes to pug pets around the world, but towards the bottom of the site you'll notice certain sections to help you learn about these special little pups. Check out the instructions for a pug party to liven up any birthday, whether it's for a human or not.

Avocado Memories
Remember the house you grew up in? Can you recall how your living room was decorated when you were 11? Chances are most of us have forgotten what houses looked like from the inside out during the sixties and seventies. This Web site is a collection of photos and captions from someone who bothered to take lots of photos so he could show his kids what his family home looked like long ago. This site is a great place to get nostalgic about your own home memories, or perhaps get great ideas for a retro decorating job.

First Kick Scooters
How much do you love your scooter? Enough to leave a permanent mark on your skin? Some Vespa fanatics pay tribute to their beloved scooters by getting tattooed. See this collection of unique body art which lets everyone know how they get to work in the morning.

Cards.co.za
Haven't heard from your pals in Spain for awhile? Want to send your mom a lovely greeting? Then visit this site to send friends and family members free online postcards. You can choose from romantic, Mother's Day, Father's Day, Christmas, birthday and general occasion cards. One of the best cards of the bunch, located in the romantic card section, is a picture of a punk-rock couple kissing in a messy apartment

Sneaker Nation
In Sneaker Nation, everyone is encouraged to wear comfortable shoes. Read the sneaker report to see what people in other countries are wearing on their feet, or read mystery stories about sneakers from the Files of the Sneaker Detective. To keep your sneakers happy, check out the sneaker care tips.

Pee-Wee's Playhouse
Paul Reubens might be gone forever from the playhouse, but Pee-Wee lives on - at least in home video. Find out more about the Pee-Wee Playhouse tapes you can buy online, or better yet, send a friend a hip Pee-Wee postcard for free.

Single Dad TV Hall of Fame
Being a single dad isn't an easy job. But if Andy Griffith can do it, so can you. This site is dedicated to the single dads of television. Created by a single dad himself, this site reminds us of some of the more famous single TV dads such as Bonanza's Ben Cartwright and Sanford and Son's Fred G. Sanford. Even Johnny Quest's father was a single dad.

Dancing Benny
Benny's a raver. You can make him dance if you want to. Push the buttons and watch him dance like a maniac to techno music.