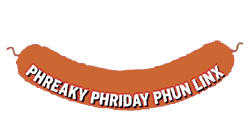 Oct. 24, 1997


Ghost Town of the Month
Was your last road trip dead boring? Liven up your trip by visiting a few ghost towns. This site describes the towns' roads, location and peculiarities. Many of the reviews also have color photos of the deserted towns. One of the more interesting towns is Dos Cabezas, outside of Phoenix, which has an old cemetery at the entrance.

The Cow Liberation Army Faction
Just because they taste good with barbecue sauce, it doesn't mean they don't have rights! The Cow Liberation Army Faction wants to free all imprisoned cattle. They claim to use violence on fences, barns and other things that "keep cows from their freedom." The site has stories about their successful missions freeing cattle as well as inspirational letters from fanatics. Check out the cute cow babe of the month while you're thinking up a way to free your prisoners of the pasture.

Gallery of Obscure Patents
Who cares about building the better mousetrap when you can build a better necktie aid? This site pays tribute to some of the more unique patents ever submitted to the government. There were 21 claims for the necktie patent alone. Vote for the weirdest one.

Iron Chef
Iron Chef combines the competitive spirit of pro wrestling, the showmanship of Liberace and the skills of Julia Childs. It's a Japanese cooking show where world-reknowned chefs compete to see who can make the best four dishes from one of the selected ingredients in one hour. According to an article on the site, "the host of Iron Chef is a strange, dramatic man in an appalling tuxedo jacket. The show opens with him taking a huge bite out of a bell pepper and staring at the camera with a look that says, 'I'm probably crazy. Why not watch my program anyway?'" Some of the foodstuffs used in the Iron Chef battles include black pig, eel, lettuce and scorpionfish.

Dirty Sole Society
Sick of those "No shoes, no service" signs in restuarants? Do socks make you uncomfortable? Do you wish you could squish grass in-between your toes every minute of the day? Perhaps you should join the Dirty Sole Society. This group of enthusiasts believe it's your right to be barefoot all day long. They hike, sail, waterski and dance barefoot. Read essays on the joys of having naked feet, or find barefoot-friendly businesses in a handy index.

Polyester Express
Disco just won't die! Hustle on over to the site for the cover band Polyester Express for a nostalgic look at a time when most people were more concerned with their platform shoes than their health. The site has sound files from fabulous songs such as "Blinded By the Light" and "Boogie Oogie Oogie." If that's not enough, the site also has a trivia challenge and information about the band's performances.

Tortilla Art
It's OK to play with your food as long as it's pretty. Make big snowflakes and silly masks with a plain old tortilla. If you don't like it, you can always eat it and start over. Make your Halloween costume from Mexican food fixings!

The Best Public Toilets in New York City
Let's say you really have to use the bathroom while you're wandering the cold streets of New York City, but you're afraid to go into a nightmare of a stall. What do you do? Visit this page for brief reviews of the best places to relieve your bladder. The site breaks down the areas into eight neighborhoods: Downtown, West Village, East Village, Chelsea, Midtown West, Midtown East, Upper West Side and Upper East Side.

A Visit to Yesterland
Disneyland has gone under many transformations since it opened its doors way back when. This site pays tribute to all the discontinued rides from the theme park. On the Adventures Thru Inner Space ride, you are transported into a world of atoms and molecules. You pass through a mighty microscope and if you look at the ceiling you'll see a big eyeball peering down out you as if you were the speciman. Other discontinued features include the Rocket Jets ride, the People Mover, the Flying Saucers rides and the House of the Future.

Postcard Rack
The next time you hurt your best friend's feelings or forget an aunt's birthday, send them free email postcards of flowers. There is also an option to attach songs like Enya's "Bard Song" and Bach's "Third Partita" with your inspirational message.