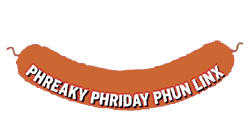 Nov. 7, 1997


The Center for Shopping Cart Abuse Prevention and Study
Picture yourself in the grocery store parking lot. You've just finished unloading your groceries into your car, and you're about to push the empty cart into the special parking area, when you see it - a mangled cart lying on its side. "Who could commit such an atrocity?" you ask yourself. "Who would be so evil as to crush a helpless cart and leave it to suffer alone?" Now you can do something about these horrible scenes and stop abusers in their tracks. Check out the cart abuse scrapbook section for proof of this nightmare.

Paige's Ugly Earrings
A fancy pair of earrings can either make or break an outfit. Paige explains the qualities that make up an ugly pair of earrings. The earrings have to be made by a factory and priced under 75 cents. See examples of ugly earrings, and learn about how one woman decided to start collecting them.

Prince William's Unofficial Home Page
Just because he could be the future King of England doesn't mean he can't have a little fun. See Prince William river rafting, rowing, playing rugby and going on amusement park rides in photos from this unofficial fan site. You can also see photos of his younger brother Harry, who Diana said would probably end up getting all the girls.

The Webstakes Network
Do you like entering contests to win cool stuff? Then visit the Webstakes Network. There you can enter to win fabulous stuff every week in categories like entertainment, business, sports, technology, music and leisure. Some of the past prizes have included digital cameras, Star Trek videos, autographed NBA basketballs and Rolling Stones concert tickets.

Solid Gold Dancers
If you're lucky enough to live in San Francisco, then you've probably run into these dancing divas somewhere in the Castro late at night. In fact, these talented drag queens make quite a splash every Halloween with their outrageous group costumes. In 1993, they dressed up as the Sioux City Synchronized Swimmers, while in 1996 they dressed as the Toledo Twisters Rhythmic Gymnasts. Visit their Web site to see photos of all their costumes and to learn about each member of the gang.

How to Have Visions
You don't have to be a prophet to have visions. In fact, all you need is a dark room, relaxing music, a cup of tea and an uncomfortable yoga position. Chances are, if you have access to holy ground, a sweat lodge or a waterfall, your likelihood of having a vision increases substantially. This site gives you tips on how to take one step closer to enlightenment.

In Search of the Perfect Pork Martini
A martini is a classic cocktail. A pork martini is a classic sick joke. This site claims pork rinds make much more interesting drink garnishes than the traditional olive. Be prepared to hear some outlandish recipes, including one where you soak Spam in 100-proof vodka for up to two weeks. The most disturbing part of this site are the photos of meat soaking in vodka in martini glasses. The Rat Pack couldn't even down one of these!

Mouse Art
A mouse can be a mini Michelangelo when he wants to. One lucky resident happens to share a house with a talented rodent who sculpts chocolate with his teeth. Some might say the mouse is just nibbling on food, but this person is convinced the mouse is a genius. Take a look at this chocolate gallery, and see for yourself. Who knows, maybe these Hershey Kisses will be on display at the Museum of Modern Art in the next year.