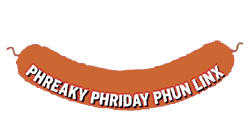 Nov. 21, 1997


Salem Witchcraft Hysteria
No one likes being accused of something she didn't do, especially when she could be sentenced to death. This site from National Geographic explores the dark side of the Salem witch trials, which were instigated by the imagination of two vindictive school girls. The trials claimed 25 lives, including that of an infant. This site retells the story of the trials based on historical facts. Ask a Salem expert questions about the trials, or send a friend a free postcard.

Greg Knight's Patio Culture
What's the suburban 1950s without a patio party? Greg Knight understands the importance of patio parties in the lives of every well-adjusted American. Here, he not only has handy recipes that use the trusty grill and those that use inside appliances, but the site also has information on TV shows and toys from the 1950s.

Alyson Hannigan Appreciation Society
She's the actress that plays the brainy character Willow on the hit series Buffy the Vampire Slayer. This site pays tribute to Alyson like most fan pages - with photos and a filmography.

Veggie Van
Forget frying up some hush puppies with vegetable oil, and use it to run your car! Read all about this amazing motor home that runs on fuel made from used and new vegetable oil. So far, the Veggie Van has completed a 10,000-mile tour and still runs on the stuff. The site claims that "not only does our three-ton, diesel-powered Winnebago get 25 mpg on the vegetable-oil fuel, but its exhaust smells like french fries." Yum!