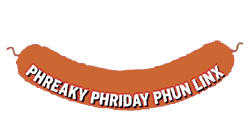 Nov. 28, 1997


Factsheet Five
Factsheet Five is sort of like the Consumer Reports of zines. It reviews all the zines out there, and there are a lot. On the magazine's Web site, you can read the editor's choice of the hippest zines around, or you can read about the zine of the month. The best part of this site is the resource center, where you can get tips and pointers on how to start your own blasted zine.

Spumco
Along the same lines as the cartoon, "Ren and Stimpy," there's the George Liquor Program! The site already has three installments of its online cartoon. If that isn't enough fun and thrills, the site also sells dolls, skateboards and T-shirts with designs from the cartoon.

Slightly off center
Traditional news can be so boring. If you want to read some stories that are a bit on the unusual side, yet still true, visit this section of the USA Today online site. On Nov. 19, some of the stories were about an entire British block that was painted pink, a little boy suspended from school for giving his classmates lemon drops and a woman who pierced her pet deer's ears for the sake of beauty.

Final Indulgence
Death is a serious issue - especially when you're the one going six feet under. Don't get buried in a plain old pine box when you can pick a custom-made coffin fit for King Tut. This company designs artsy coffins for those corpses too special for the ordinary casket. Some of the designs include a blue mermaid, Isis and a Rolls Royce. You'll be the envy of the entire cemetery.

FIP Cam
Sick of the view from your office window? Go to the FIP cam now, and see the view of Oxford Circus in London. It's updated every five minutes so you can gaze at London traffic for hours.

Center for Puppetry Arts Museum
This is the largest puppetry museum in the United States, and for good reason! These aren't your typical muppet variety. The site has photos of some of the more imaginative puppets, such as the mechanical bird and a brick wearing a skirt.

Fashion Flashbacks
Platform shoes and bell-bottoms may never go out of style if these people have their way. On Fashion Flashbacks, a group of dedicated, and possibly obsessed, fashion fanatics pay tribute to clothes that were worn between 1960 and 1979. They have online photos from their exhibits and even a myriad of fashion links so you too can see what all the fuss is about. Boogie on!

Deni's Vintage Barbie Collection
With Barbie getting a makeover to look like a normal woman, it might be a good idea to visit this site full of vintage Barbies so you can see her in her prime. Many of Deni's Barbies are in scenes where they are at a soda shop or chatting on the phone. This is an excellent start for any collector to see which dolls are more valuable than others. For a fun look at Barbie's past, don't forget to visit the Mod photo gallery and see Barbie dressed in leopard-print leisure suits and glitter skirts.