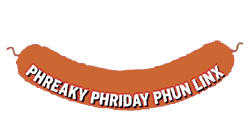 Dec. 5, 1997


Demon Possession Handbook
Do you have demons stalking you at home? Do you feel powerless against them? Now you have a secret weapon - this demon possession handbook. Here you can learn about all the diffrent forms of possession and why some people are afflicted and others are not. See how demons might use rock musicians to turn your children into Satanists.

Krispy Kreme
Nothing tastes tastes better than a soft, virtual doughnut. Krispy Kreme is more of an icon than a doughnut chain store. Ever since the first Krispy Kreme was created in Salem, N.C., in 1937, the doughnut's popularity has risen to cult status. See why so many people love their trademark glazed doughnuts as well as their specialty flavors such as glazed devil's food and glazed sour cream.

American Science and Surplus
With the holidays right around the corner, it might be time to start searching for unique presents for your friends and family. American Science and Surplus is an ideal place to find fun and odd gifts. Give Grandma the Breakfast of Astronauts, or wrap up a nice nose sharpener for your cousin Vinnie. The catalog has plenty of educational kits for making beer, sand art, rockets and even chewing gum.

Sid and Nancy
As one of the more infamous rock 'n' roll couples, Sid Vicious and Nancy Spungen lived and loved dangerously. This site has lots of photos and sounds of Sid and Nancy having the time of their lives until Nancy was found dead in 1978 at the Chelsea Hotel in New York City.

Digital Deadpet
Did your Giga Pet die unexpectedly and now you feel guilt for not feeding it enough? Put your guilt to rest by having a lavish funeral for the little guy. Type in the name of your pet, its breed, gender and so on, and soon you'll be on your way to having the ideal funeral for your dead digital pal.

Sold Out
What is it about Japan that makes American celebrities want to advertise beer, shampoo and ice cream? This site shows advertisements made by celebrities who rarely endorse products in the states. See Jodi Foster promote ice cream and Dennis Hopper advertise bath salts. Some of the more usual endorsements include beer ads from Tiger Woods, Michael J. Fox, Harrison Ford and Sylvester Stallone.

The Sam and Max Homepage
If you were a criminal, would you take a six-foot-tall dog and a three-foot-tall hyperkinetic rabbit as a serious threat? Probably not, unless you knew they were the infamous Sam and Max. This crime-fighting duo has a way with waving a pistol that would make anyone think twice about robbing a bank. See why this comic, video game and now a morning cartoon are so popular with the kids.

Shining Star: Andy Gibb
As the Bee Gees' little brother, Andy Gibb spent half of his life proving himself as a singer and the other half destroying his success with drugs. This site takes a special look at Andy's short life and his various musical accomplishments. The site also has a great photo gallery and an extensive biography.

Real TV
This is the kind of program that loves to show home movies of people getting into various accidents while on vacation. Real TV always has features on animal tricks, sports events gone bad, riots, criminals in action and other bizarre acts. Go to the Web site, and download various video clips for your viewing pleasure.