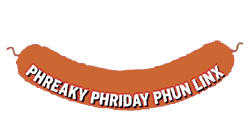 September 27, 1996


Jellinek's Baby Name Chooser
For soon-to-be-parents who are stumped for something to name their baby, this site will find gender-specific names for the wee tot. Depending on how many times you want the child teased in school, you can choose names such as Helga, Halsy, Engracia and Uriah.

Gargoyle Home Page
Protecting the buildings they're stuck to, gargoyles are more than just scary stone ornaments. Originally created to throw rain water clear of a building, some of them actually look like they could fly away.

Train Hopping
Before there was Trainspotting, there was train hopping. Learn which areas in the yard to jump on a train and which cars to ride. Each section has photos and detailed reviews by people who really know what they're talking about. Be sure to read the Kerouac-like travel stories written from the train hopper veterans themselves.

Biorhythm Chart Generator
Biorhythm explores the theory that our lives are affected by three primary cycles: Physical, Emotional, and Intellectual. Type in your birthdate and you can generate a free biorhythm chart.

College entrance exam - football player version
What language is spoken in France? How many feet is 0.0 meters? What time is it when the big hand is on the 12 and the little hand is on the 5? If you think you can answer these questions correctly and pass a football, you may be on your way to college.

Make seaweed pudding
Some people are so hungry, they'd eat just about anything. Here's a recipe for an unusual flavor of pudding Jell-O has yet to market.

Brain Tricks
Is your brain defective? This site might help you decide. Take one of the Brain Tricks quizzes or learn some smart humor to laugh at the intelligence-challenged people in your life.

Fun With Grapes
Bored and want to have some fun with your microwave? If you have a batch of grapes and some imagination this site can lead you to a path of entertaining experiments with fruit.

Official Drole for President Site
Bob Dole like you've never seen him before. He surfs, plays electric guitar and loves to wear blue eyeshadow. This parody site (hence "Drole" instead of "Dole") may even get you to vote for him. Or not.

Frank's Vinyl Museum
Frank spends a great deal of time rummaging around thrift stores for the records you give away. Discover Disco Christmas albums, space-age renditions of Bach, politically incorrect bubblegum pop music and Donny & Marie.

Mentos FAQ
"Fresh goes better, Mentos freshness, fresh goes better with Mentos, fresh and full of life!" Learn the proper way to eat a Mentos fresh maker or try your hand at FreshSpeak. Find out if the Mentos commercial plots are communist manifestos or just bizarre sitcom-like storylines.

The Onion
Forget reading the New York Times! The Onion newspaper pokes fun at everything unfit to print. With headlines such as "Dalai Lama Decks Photographer In Disco Melee" and "Perky 'Canada' Has Own Government," you'll know that this is one publication not headed for a Pulitzer.