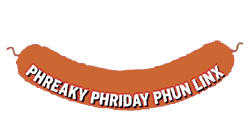 Dec. 26, 1997


Foreign Speed Traps
Scared of driving on the wrong side of the road in England? Are you perplexed when you reach the kangaroo crossing sign? The Foreign Speed Traps site gives you one less thing to worry about when driving abroad. Discover where common speed traps exist in Australia, Denmark, France, Singapore, South Africa and many other countries.

Chuck E. Cheese
Chuck E. Cheese is a mouse of many faces. He is a host to hungry kids, and a playmate to those willing to shell out quarter after quarter into his arcades with in the pizzeria. He's an entertainer, making all birthdays special and exciting. And he could be your employer if you fill out the online job application and flatter his rodent ego.

Guess-A-Sketch
Try this online version of Pictionary the next time you're bored online. People take turns drawing pictures from a given clue and then the rest of the players race to guess what it is. The faster you guess, the more points you score!

Postcards from the Grave
Who says the dead always have to be silent? Send a stylish, yet rather morose, postcard to family and friends. These postcards use images from various cemeteries and morbid illustrations.

Fontaholics Anonymous
Do you eat, sleep and dream about fonts? The first step toward recovery is admitting you need help. At Fontaholics Anonymous, you can get your font fix by reading useful information on this site such as a document on converting fonts between Mac and PC. You can also follow the extensive font links list and see who else online shares your obsession for letters.

Totally Absurd
Got a great idea for an invention but think people might think you're crazy? Don't fret, you're in good company. On the Totally Absurd site you'll find wacky inventions for motorcycle airbags, floating furniture, pet toilets and even a cow gas emissions checker.

Marvel Universe
Spider-man finally made it to the Web, and he brought his crime-fighting pals with him. Get the latest news and previews from one of the largest superhero comic book publishers around, Marvel.

Pillsbury Doughboy
He's cute, cuddly and giggles when you jab him in the tummy. It's the Pillsbury Doughboy! On this official site, you can send special Doughboy postcards or spice up your computer with sound files of Doughboy giggling. The best section is the games area where you can decorate sugar cookies online.

Bell Labs Text-to-Speech Synthesis
Leave it to Bell Labs to create such a cool, yet useless, diversion as the Text-to-Speech Synthesis site. Here you can type any sentence you want and the utility will repeat what you've written with the voice of a man, woman, child or even a gnat. It also translates Pig Latin if you're into other dialects.