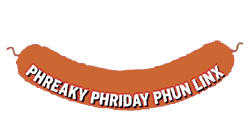 Jan. 9, 1998



Mars Earth Connection
Are aliens watching you from Mars? You might be surprised to find out how from images collected on this site. See the face of Mars, and look at images of pyramids that could have been used by advanced civilizations as an alien landing pad.

Cooking with High Voltage
When you get bored with making quick treats in the microwave, you might be ready to cultivate your culinary arts by cooking with the aid of a blowtorch. Make tasty Charred Cheese Sandwiches, Delicious Cajun Blackened Bologna, Pulse Discharge Pancakes and so much more. Remember not to look directly into the light while cooking, and be sure to wear those safety goggles.

Grrl Gamer
Video games aren't just for boys, ya know. Check out Grrl Gamer for the latest video and computer game reviews written from a girl's point of view. In the latest issue you'll find an essay about Quake 2, a critique of Purple Moon games and more.

Joseph's Innocent Inanimate Objects Page
While some people like to play chess or watch TV in their spare time, Joseph would rather shoot inanimate objects with his guns. Here you can see Joseph destroy fruit, vegetables, soda bottles and cardboard boxes with a wide array of firearms.

Dust Mites: A Primer
These pesky critters hide in your carpet and make you sneeze. They are barely visible and almost impossible to get rid of. Brush up on your mite trivia with this extensive research paper on their taxonomy, biology, life stages and other useful components.

The Useless Pages
Looking for a dead fish cam, or perhaps you're searching for a tribute site about bacon? Now you can find a myriad of bizarre links with the Useless Pages site. Be prepared to spend hours clicking on sites that will do nothing but waste your valuable time. You've been warned.