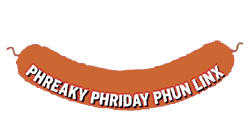 Feb. 6, 1998






For a nail polish and cosmetics company, Hard Candy sure is hip. Check out their well-designed Web site for information on how to keep your nails looking funky. You can buy nail polish colors like Gangsta Booty and Space Boy online. The site also has a dandy chat section where you can gab with other glamour kitties.

Name That Candy Bar
So you think you know your favorite candy bars inside and out, do ya? Challenge your taste buds with this special candy bar game. The site provides the snapshots of candy bar slices, and you guess which candy bars they are. The game is more difficult than it sounds.

The Completely Unofficial Yoo-Hoo Web Page
Yoo-Hoo could possibly be the best chocolate drink around. Fortified with nutrients and virtually fat free, this swell drink has won the hearts of many would-be soda drinkers. Check out this fan site for photos, facts and a lot of personality.

HAE Street Luge Page
Street luge is the best way to feel the road beneath you and challenge your mortality at the same time. Getting up to speeds of 55-60 mph, you lie on your back on an eight-foot board and hold on for dear life. Think of it as bobsledding, but without the nice cushy snow.

Comic Art & Graffix Gallery Virtual Museum
Want a rewarding hobby that makes you look cool with the kids? Try collecting comic-book art. Here you'll find all kinds of great information on how to collect and sell your comics. It's a store and encyclopedia of comic-art knowledge all in one. The site has comic-book reviews and artist biographies to help you sound like an expert.

Who's the Dummy?
What's scarier than a puppet? The ventriloquist who thinks it's real. Here's a whole lot of puppeteers at a convention in Kentucky. Read about their thoughts, and try not to laugh too hard when they call the puppets their "friends."

The InfraRed Gallery
Once you take an infrared photo, you might not want to go back to regular film processing. See why some photographers transform their Kodak moments into truly unique works of art.